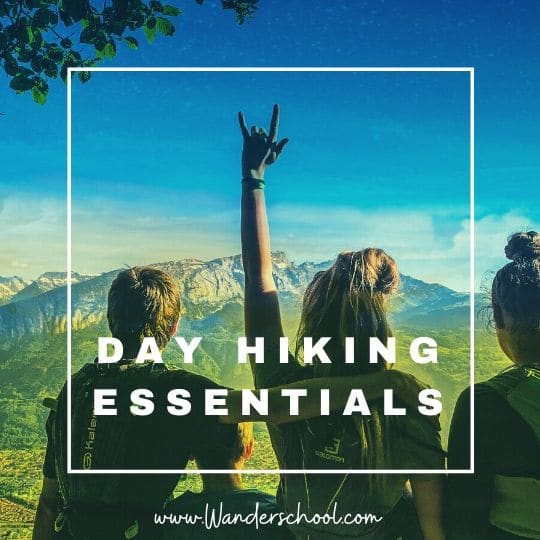 If you're planning a day hike, you won't want to leave for the trailhead without these day hiking essentials.
What is a Day Hike?
First off, a day hike is exactly as it sounds. A hike during the day. That is, a hike that is expected to be completed in less than a day. A day hike could be a short hike that lasts a couple of hours or one that takes up most of the day.
Day Hiking is not an overnight adventure. No camping is involved. A day hike is definitely shorter than an undertaking like hiking the classic Tour du Mont Blanc route. Of course, an overnight trip could include short day hikes, but generally a day hike is limited to a shorter, one day max adventure.
Being Prepared for a Day Hike is Key
Being prepared for a day hike is essential. Too often, unprepared hikers end up in precarious situations. Many of these situations can be avoided with a little preparation by carrying day hiking essentials.
Something as basic as a twisted ankle could put an unprepared day hiker in a potentially dangerous situation–the situation could be made even worse by a broken bone or serious injury. In my pre-child days, I happened to come across a situation like this in the mountains, where the hikers thought they'd only be out for a brief hike, but got into trouble and were completely unprepared, especially as the daylight grew shorter, the temps cooled off, and the darkness arrived.
This is one of the reasons that even if I am headed out on a trail close to home, with or without my children, even for a short 45 minute hike, I always bring the basics with me. Just in case.
Don't Day Hike Without Essentials
If you're hiking with children, especially if you're going out as a solo parent, being prepared for the unexpected is even more important.
Being prepared doesn't have to be intimidating or scary. Hiking is awesome for health and fun. Hiking with children can be a blast, and great for memory making. When you're prepared for the unknown, you can focus more on your adventure, and less time on the what ifs.
Day Hiking with Kids
In the spring and summer, I try to get out day hiking with my children several times a week. Sometimes our excursions are short. Sometimes they are multi-hour adventures. I try to pick routes that seem doable for my children's ages, their abilities and attitudes that day (if they seem tired or grumpy, I will pick a shorter route, scrap the hike altogether, or pick a hike that has a fun destination at the end, such as a mountain gite that serves ice cream for a mid-hike turnaround treat).
If you're new to hiking with kids, I suggest picking a trail close to home and keeping it short and sweet. Hiking for 15-45 minutes might be plenty long enough. You also don't want to spend hours and hours planning for a hike, and arrive at the trail head with such high expectations of the experience that you're quickly disappointed by the experience or moods of your children.
Even with a very brief hike, you should still be prepared and get into the habit of being prepared. Every. Single. Hike.
Mom Tip: I keep a designated hiking day pack ready to go. This makes getting out the door anytime during the week fast and quick. I don't need to plan days or hours in advance for a short hike. I know my pack always has the basics. (Of course, I also make it a habit to double check the pack before I head out and re-supply it when it's low).
Ready, Set, Pack These Day Hiking Essentials
Here are my day hiking essentials that I carry in my day hiking backpack. First, I should note, having a comfy, lightweight daypack or trail-running hydration vest / backpack is an essential starting point. If I'm hiking with my kids, they also have their own hydration vests or backpacks to carry their essentials.
Affiliate Links Disclosure: My posts sometimes contain affiliate links, which mean that if you click on them and make a purchase or sign up for an offering, I may earn a commission, at no added cost to you. I received no compensation for writing this post, and it reflects my own experiences, research, and opinions. You can read my my privacy policy here. Thank you so very much for reading my blog!
The Backpack
As I've mentioned in The Best Travel Gear of 2020, I love Deuter backpacks. Deuter makes compact Speed Light packs, including Women Specific Models that fit a woman's frame (look for the signature Deuter yellow flower). These packs are great for day hiking, with or without children in tow.
The Hydration Vest
As an alternative to a day backpack, the hydration vest (like the style worn by trail runners) is a great way to carry your Day Hiking essentials. My family are big Raidlight and Salomon Hydration vest fans.
The Essentials to Put Into Your Backpack or Hydration Vest
In no particular order, these are day hiking essentials that I take with me on my day hikes. I recommend carrying these essentials regardless of whether a hike is under an hour or for several hours. Of course, I sometimes tweak this essentials list depending on where I'm going. For example, if I know I'll be up in the mountains in the spring on a warm day, I still always bring at minimum a thin hat and mittens/gloves.
First Aid Kit
Over the years, I've purchased different models of Adventure Medical Kits' Ultralight First Aid Kits, depending on my adventure. They are emergency first aid kids in bright yellow pouches. You can't miss them. You can always find them easily in your pack. They are ultralight and watertight.
Emergency Blanket
An emergency blanket is one of those musts for day hiking. An emergency blanket can keep you warm in an emergency, can help treat someone in shock, can serve as an emergency layer (wrap up in it), or emergency rain shield. They don't cost a lot, are lightweight, and fold up small enough to fit into your medical kit.
Headlamp
Another must. It doesn't take much for a day hike to take a wrong turn into the dark. Don't underestimate importance of the headlamp.
Mom Tip: Buy a different color headlamp (different headlamp strap color) for each child or parent. No fighting over headlamps. Everyone knows which headlamp belongs to who.
Snacks
As straightforward as it sounds. Always pack snacks. I always carry at least one piece of "emergency food" (a pack of sport gummies, granola bar, sports bar, something with calories). If I'm hiking with kids, I also always bring some sort of 'motivational' or 'meltdown' prevention (or fixer) snack like gummy worms, pretzels, gorp, or (dried) fruit.
Rain Jacket / Layer
I always carry an extra layer, even if it's just my super lightweight Outdoor Research Rain Jacket which I've raved about over here in my Best Travel Gear of 2020 post. It comes in bright colors and is totally packable.
Water
Yep, a must. Even on a short adventure. 'Cause you just never know. Depending on your adventure, consider Iodine tablets or a Life Straw for filtering water should you get in a pinch. A hydration bladder comes in handy as a lightweight water carrier and fits into deuter packs or trail-running type hyrdration vests. I prefer HydraPak bladders (as do my kids).
Benadryl
I keep Benadryl in my first aid kit–and refill it when it's used. I think hiking with kids Benadryl is even more important to carry. You never know how a kid will react to a bee sting, insect bite, or a field of flowers. Last year, when hiking in the Alps in the Spring, my daughter had a bad allergy attack while hiking through a beautiful field of blooming flowers. Her eyes were so puffed up, her nose was dripping like a faucet, and she sneezed for what seemed like forever until we got out of that field. Unfortunately, I hadn't replenished the Benadryl stash and couldn't find it when I needed it!! Not a good way to learn to double check that it's in the kit, but lesson learned.
Buff
A Buff is the most versatile hiking essential in my book — I mean, backpack. 🙂 A Buff can be worn many different ways and used for different purposes. For example, it can be worn as a neck warmer, hat, sun blocker, hair tie, headband, tube top, or even used as an emergency compress / bandage. When you're hiking and it's warm or hot at the trailhead, you might never guess that your head or ears might feel cold later while hiking. However, sometimes when you get far enough along on a trail or gain some altitude, you can find yourself wishing that you had a hat or some form of sun protection. A Buff serves these purposes well.
Hiking Poles
Sure, it may seem like overkill to hike with hiking poles for short trips, but I always do. Not only to save on my body, but because of one too many close calls with off-leash dogs. Thankfully, I've never had to use them for protection. But poles give me a little bit extra piece of mind. My kids hike with them too. Hiking poles somehow always play a role in hiking entertainment.
I'm a fan of the Black Diamond Carbon Z poles. They are great for hiking and trail running adventures. Yes, they are a bit pricey, but worth it. Really. Keep in mind, if you plan to travel by plane with your poles, you'll probably need to bag check them. I have had issues trying to put them through airport security in carry on and I have friends who have had similar issues.
Phone
Even if you want to be disconnected and away from it all on your hike, carrying a phone is a good idea. Just in case. You don't have to use it, but at least you'll have it.
Hiking is Awesome
Hiking is one of my favorite things to do for exercise and for fun with my children. If you are looking to try hiking alone or with your children, I highly recommend it. No need to feel intimidated.
Just pick a trail, bring these essentials, and go WALK. That's it.
Happy Hiking,
Julie
Follow Julie on Social Media! 😉
Did I miss an essential? If so, please let me know! Leave a comment below.