I'm seriously wanting to tent camp again on the Tour du Mont Blanc.
In 2018, I hiked the legendary 100+ Mile Tour du Mont Blanc (TMB) Route with my four children. That was before we decided to make France a big part of our life. France with its beautiful hiking trails, including the French sections of the TMB, are something to behold.
While recently out for a short walk (allowed with restrictions under French COVID-19 lockdown) with my 12 year old, she asked if we could hike the TMB again later this summer after quarantine lifts… but she doesn't want to simply hike it, she wants to camp it.
Her reasoning? It would be fun, and we could do it even if refuges don't open for the season, as speculated. (because of any lasting pandemic closure effects). Plus, it would be a good way to ring in her birthday and life as a teenager.
When the kids and I previously hiked the Tour du Mont Blanc route, we stayed at refuges and hostels. along the way. I knew then that wild and free camping was strictly prohibited in certain areas.
So…and these are big ifs, if lockdown is lifted, if borders reopen, if we are allowed to exercise in the mountains, if there are no hiking or route restrictions, if we remain healthy, and if my tween hasn't changed her tune about hiking and camping after confinement… I'll need to do some serious TMB Camping research.
**Update: We were able to tent camp the first stages of the TMB in August 2020.
Where Camping is Allowed on the Tour du Mont Blanc
As I'm researching camping options, I've come across some helpful resources and blog posts from hikers who have camped along the trail and thought someone (besides me!) might find it helpful to have a compilation – all in one stop – and save some research time.
So, here are some of the goodies, I have so far.
The Tour Du Mont Blanc
Permissible Camping on the Tour du Mont Blanc
Specific Locations
Camping Itinerary Suggestions:
I think these posts are well done and have some good camping insight.
Facebook Groups / Community Questions:
Share the love! Pin this post. Tweet it. Share it with your friends, family, or followers. I truly appreciate it! 😉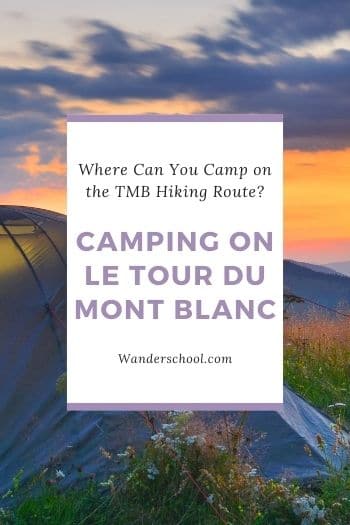 Have you camped along the TMB route? Or are you planning to tent camp the Tour du Mont Blanc? If so, want to share some tips in a comment below? I'd love to hear from you.
Follow Julie on Social Media! 😉

Related Posts You May Love
Hiking the Tour du Mont Blanc with Children
TMB Frequently Asked Questions