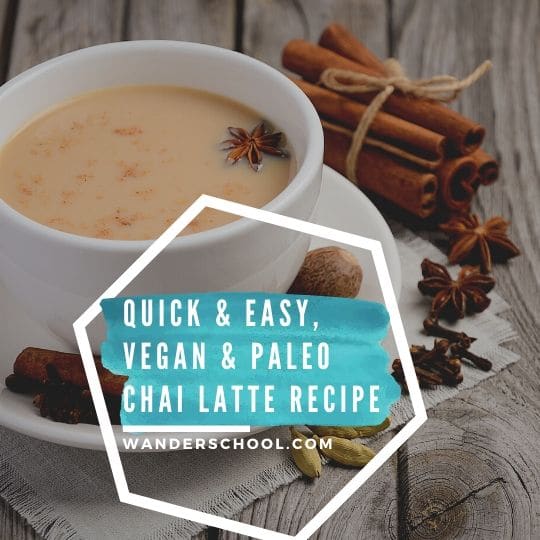 I Love Chai Lattes!
If you follow my blog, Wanderschool, you know I love traveling in search of good Chai Lattes, and I definitely appreciate a quick and easy chai tea latte recipe.
Making chai from stratch is a good ol' fashioned adventure and fun. You can also save a ton of money when you make your own chai lattes at home. You can save even more if you already have some of the ingredients and spices on hand.
Affiliate Links Disclosure: My posts sometimes contain affiliate links, which mean that if you click on them and make a purchase or sign up for an offering, I may earn a commission, at no added cost to you. I received no compensation for writing this post, and it reflects my own experiences, research, and opinions. You can read my my privacy policy here. Thank you so very much for reading my blog!
No Recipe is the Same
I think it's easy to get overwhelmed with finding a good chai latte recipe. Even Asking Alexa (the Alexa Show is great for displaying recipes in the kitchen) for help isn't that much of a help. For me, she seems to bring up complicated recipes or ones in which I lack all of the fancy spices.
The recipe below makes a good beginner chai recipe. It is also easy to customize.
You also don't need any fancy equipment, like a milk frother to make it. A good old fashioned saucepan (or two), a fine mesh strainer (or tea strainer or coffee filter), and a whisk will do.
If the recipe below isn't your perfect cup of tea literally (ha, ha 😉 ), don't give up on making your own chai! You can always check out 15 Perfect Chai Latte Recipes, where you are sure to find something that IS your cup of tea.
Keep these Spices on Hand to Make Chai
The most complicated part of making chai, besides finding a decent recipe, is finding all of the ingredients in the spice cabinet.
I recommend stocking up on the following spices. If you have these, you can make most chai latte recipes. Note: You do not need all of these recipes for my recipe below. These are just the chai-make-nearly-any-recipe-you-find-staples. 😉
*Cinnamon Sticks
*Cinnamon (Ground)
*Star Anise (Whole or Ground)
*Black Peppercorns
*Cloves (Whole or Ground)
*Nutmeg (Ground)
*Ginger (Ground)
Where to Buy Spices
You can get spices for chai at most grocery stores. Depending on where you are in the world, these spices may cost a lot or a little. If you are in the USA, you can often get spices for chai a lot cheaper in the bulk foods section of grocery and co-op food stores. You can also find many of the ingredients at Costco. My experience in France is that the prices for many spices, like Star Anise, are a lot cheaper than in the USA. You might also find quality spices at markets. For example, at Chelsea Market in New York City.
Why I Use Maple Syrup
I use 100% maple syrup in my recipe as a sweetener. It reminds me of a delicious made-from-scratch chai latte I once had years ago at a little cafe in Vermont. Also, maple syrup is a natural sweetener, which is vegan and Paleo approved.
Pure Maple Syrup is simply sap from a Maple Tree boiled down long enough until it becomes "liquid gold" – a.k.a. maple syrup.
Benefits of Pure Maple Syrup
I choose pure Maple Syrup over other sweeteners in my homemade chai latte recipes because it is natural and other than being boiled down from sap into syrup isn't processed in anyway.
Maple Syrup is said to contain antioxidants, to help fight inflammatory diseases, and is considered to be a good substitute for sugar and to artificial sweetener alternatives. It is also thought that Maple Syrup might help protect against cancers.
Benefits of Spices in This Chai Recipe
My Easy & Quick, Vegan & Paleo Chai Tea Latte Recipe below calls for the following spices: cinnamon stick, star anise, cardamom pods, and ground ginger.
Benefits of Cinnamon
Cinnamon is said to offer many health benefits. Cinnamon contains antioxidants and is believed to have anti-inflammatory properties and may lower blood sugar and reduce heart disease risks.
Benefits of Star Anise
It's thought that Star Anise contains compounds that may offer antioxidant, anti-inflammatory, and antimicrobial properties that benefit health.
Benefits of Cardamom
Cardamom is believed to offer properties that may lower blood pressure, fight cancer, help with digestive problems, and have antibacterial effects.
Benefits of Ginger
Ginger is long believed to offer health benefits, including anti-inflammatory and medicinal properties, such as treating nausea, and reducing risks of cancers and diabetes.
Does Chai Contain Caffeine?
Chai tea lattes typically contain some caffeine, depending on the tea used. In the recipe below, I use an English Breakfast (Black) tea.
People who love the taste and spice of chai, can tweak this recipe to create a caffeine-free chai drink by using caffeine free tea or simply omitting the tea altogether to create a "hot chai-flavored milk beverage."
Practice Makes Delicious
I've tried several chai recipes and felt discouraged. Once upon a time, I thought maybe I would never achieve a good chai. But then the day came. I did it.
Honestly, I think the secret to making a good chai is to start with a basic recipe and tweak it as you go, until it is fully customized to your personal liking.
If you are nervous about spice intensity, I recommend that you avoid leaving the spices in the tea for too long before straining. As you'll see in the recipe below, this recipe does not contain some of the "spicier" chai ingredients, like black peppercorns. You could certainly add them.
Some people love super spicy chai. Others prefer less spicy Starbucks-like chai with lots of creamy milk.
Once you find a recipe you love, which hopefully will be the one below, you'll discover that you can save tons of money making it yourself. You can also have chai whenever you feel like it. But without the sugar guilt that comes with many coffee shop chai lattes.
The Chai Tea Latte Recipe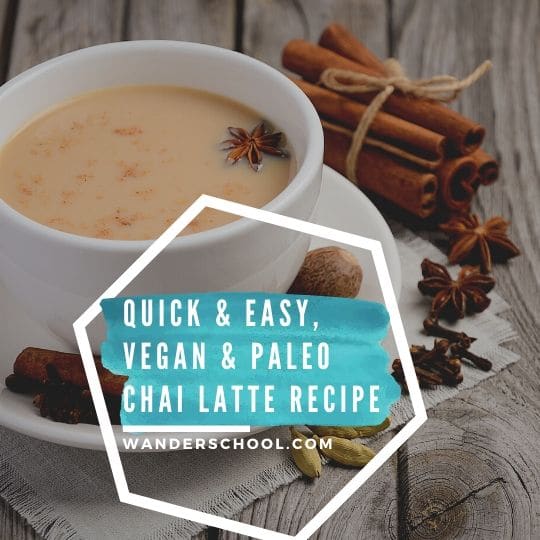 Print Recipe
Easy & Quick, Vegan & Paleo Chai Tea Latte Recipe
I love a good cup of chai! This recipe is not only good, but it so much healthier than store bought chai concentrates that contain a ton of sugar. It will take you longer to find your spices than it will take you to make this chai.
Equipment
sauce pan, whisk, fine mesh strainer (or tea strainer or coffee filter)
Ingredients
1

cup

Water

1/2

cup

Almond Milk

1

Tablespoon

Black Tea

*I use 2 English breakfast tea bags, open them up and pour into the saucepan

1

Cinnamon Stick

*I use a small stick or half of a regular length stick

1

Star Anise (whole)

4

Cardamom Pods – Crushed or Ripped open

1

Teaspoon

Ginger (ground)

1/2

Tablespoon

Pure Maple Syrup
Frothed Milk – To Add After on Top of Chai Concentrate
1

Cup

Almond Milk

1/2

Tablespoon

Pure Maple Syrup
Instructions
Measure and pour water, milk, and spices into a saucepan. Bring to a gentle boil.

Reduce heat to a simmer and add black tea. Let simmer for 3-5 minutes. Shut off burner.

To save time, in a separate saucepan add almond milk and maple syrup, gentle whisking until foamy and warm. Shut off burner and remove from heat.

Strain tea concentrate to separate spices from the liquid using a fine mesh strainer. I use a tea strainer that sits over a coffee mug.

Add 1/4 cup tea concentrate per mug + 1/2 cup or desired amount of frothed milk to the mug. Note: Save tea concentrate for later use or serve all at once. If you are planning to serve all at once, you will want to double or triple the frothed milk recipe, depending on how creamy and milky you like your chai latte.
Notes
Depending on how sweet and spicy you like your chai, you may wish to use more concentrate or less and more or less frothed milk.
You can add more maple syrup or make this recipe with less, depending on your desired level of sweetness.
For more spice, you can let the spices infuse longer in the tea before straining.
I prefer a ratio of 1/4 cup concentrate to 1/2 cup of frothed milk.
If you love chai, please share the love and repin, tweet, or share this recipe!
I'd love to hear what you think about this recipe. Drop your comments below. Or, drop your ideas for making this recipe even better.
Happy Sipping,
Julie
Follow Julie on Social Media! 😉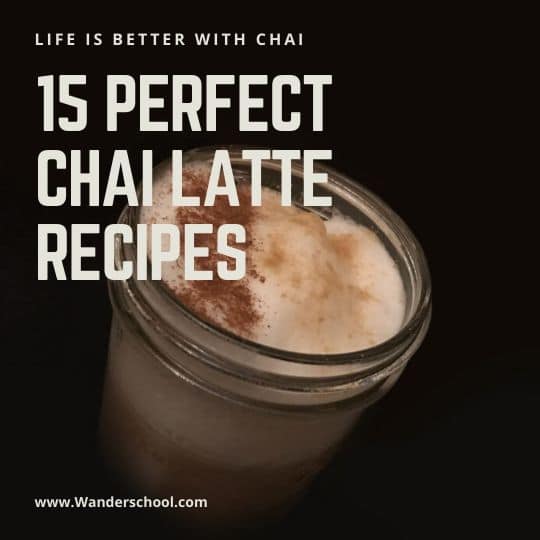 Related Posts You May Love