Budget Travel to Turks and Caicos.
I originally wrote this article in 2016, following an incredible trip to Turks & Caicos in the British West Indies. Since I haven't yet returned to Turks & Caicos, I am not sure if the content, namely the businesses, are all still around, or if the prices have changed a bit.
Even if things have changed a bit, I believe this post is still practical for families looking to try out a lovely Caribbean destination: Turks & Caicos. Most importantly, I want to show that Turks & Caicos is doable on a budget. While Turks & Caicos may not be the least expensive destination, it is in many ways spectacular and worth it.
If you've traveled to Turks & Caicos more recently, I'd love to hear from you about your experience. Please drop a line in the comments below.
My Turks & Caicos Experience
I can't decide if I want to nap or write over the lull of the plane's white noise. My four children quietly play on their iPads–three take up the full row left of the aisle, the fourth, my baby, only he's now six, sits pressed against me to my right, mesmerized by Minecraft. The nap would be the sensible choice for a homeschooling mom who spends 24/7 with her children and travels with them in tow, despite the peacefulness so conducive to writing.
I close my eyes and try to drift into sleep, but my thoughts take me to the last six days spent exploring Providenciales in the Turks and Caicos Islands.
40 Islands – Turks & Caicos
Located east of the Bahamas and surrounded by gorgeous, Hollywood-esque turquoise waters, English-speaking Turks and Caicos is comprised of forty islands, eight of which are inhabited, including the small, island of Providenciales. Known locally as Provo, Providenciales, the most developed island, covers only 38 miles, and has a population just over 23,000.
The Airport
Providenciales has an international airport (PLS), with daily flights to/from the USA and Canada. The island, features a largely undeveloped landscape with empty lots and natural overgrowth dotting the landscape. Provo also features upscale development and touristy areas designed to attract and bathe visitors in coveted, luxurious island experiences, including all-inclusive, high end resorts, multi-million dollar villas, spas, and elegant dining.
Provo
Even the late Prince, as in THE Purple Rain Prince, THE formerly known as a symbol Prince, was attracted to posh Provo, purchasing a 10,000 square foot fortress in 2010.
Provo is a far cry from American suburbia, but for travelers seeking luxury and creature comforts of home, such as a latte, fresh juice, frozen yogurt, or Udi's Gluten-Free frozen baked goods, it's all available, albeit without the commercialization and with a higher price tag.
Budget Travel
Soaking up Provo's island experience isn't cheap. If you're seeking a budget or economical Island get-a-way, Turks and Caico's Providenciales probably won't make the destination short list, unless you're willing to think outside the box. Costs for accommodations and food are universally in the high end of moderate to expensive. If you're traveling with children, the cost is more.
What to Expect in Turks & Caicos
A basic burger at a typical restaurant runs $12-18.  Local fare lunch dishes run $15-30. Salads $14-25.  A typical kids meal $10-12. Alcohol prices rival those found at in Manhattan. Gas prices are are just shy of $5.00/gallon. Grocery prices aren't cheap either. A half gallon of organic milk at the local IGA grocery store costs $8.99. A small container of pre-made Sabra hummus–$6.99. Those prices make Whole Foods in NYC look like a bargain. Turks and Caicos uses U.S. Dollars, so while you don't have to worry about currency exchange fees, a Dollar is still a Dollar.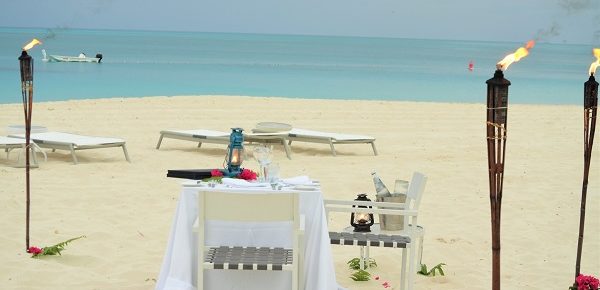 But once you look past island sticker shock, if your travel dates are flexible and you are willing to take time to do a bit of research–or have connections–Provo is well worth a visit and can be done without spending a fortune. It's even doable with children without breaking the bank.
Here's how to visit Turks and Caicos without sacrificing the College Fund:
1. Airfare
Look for deals.  
Airfares are the lowest they've been in years, and this summer they are expected  to hit the lowest record in 7 years. With travel date flexibility, a bit of creativity, and an American Airlines Credit Card Coupon for $100 off, I was able to score tickets from NYC to PLS for four children and two adults for approximately $188 per person total, including taxes, round trip. That included a three night stopover in Miami. The catch to get the savings: I had to get the kids up at 2:30 a.m. to catch a subway train to JFK  for the crack of dawn flight, and the return flight went to LGA instead of JFK.
2. Accommodation  
While you can certainly look for travel package deals and inclusive resort promotions, you can also find great deals on beautiful rentals by owner through sites such as VRBO and AirBNB.
We found a lovely villa rental in Grace Bay, a 2 minutes walk to the pristine beach, and walking distance to restaurants and boutiques. It featured two bedrooms, a rollaway bed, a pull-out couch, three TVs, full kitchen, bathroom, private patio, screened porch, beach towels, snorkels, washer/dryer, and shared pool for around $325 per night–a reasonable price considering the resort next door charged $1,400 a night for a room to accommodate six of us. If you book a rental from one of these sites, be sure to rent from an owner with posted customer reviews, talk with the owner by phone before you make a reservation deposit, and take advantage of any travel protections offered by the site or your credit card.
3. What to do
Beach time. 
There are many beautiful beaches to explore with soft white sand and beautiful waters. Some beaches are better than others for kids. My kids loved Grace Bay. The water was calm most days, one day even almost flat, the other days the waves were just the right amount for endless hours of wave jumping and boogie boarding without having to go far from shore. Taylor Bay is also a popular pick for children.
Cost: Free.
Snorkeling. 
Coral Gardens is a  top snorkeling location. You can reach the reef/popular snorkeling area from right off the beach. If you've got a snorkel, you can skip the cost of a pricey excursion.
Cost: Free.
Play with puppies on the beach. 
Providenciales has a dog overpopulation problem. Dogs and puppies run wild. On an afternoon run, my daughter came across four wild puppies alongside the road–she wished she could take them home. Potcake Place in Grace Bay tries to find homes for island puppies. The rescue relies on volunteers to help play and walk with rescued puppies. After signing a release, you can "borrow" a puppy from the rescue and spend time playing with it at the beach or take it for a walk around town.
Cost: Free.
Kayaking or SUP rentals. 
If playing on the water is your thing, you can rent kayaks (hold up to 3 people) for $25/hour at Blue Unlimited in the Marina near Grace Bay. Kids are permitted to go along and they offer pint-sized life jackets. From the rental office, you can paddle a short distance to explore the mangroves or paddle through the waterways past luxury residences and mansions. You can also find guided tours and instructional classes here.
Cost: Varies, depending on length of rental.
If you're looking to sweat a bit more in paradise, check out the yoga class schedule at this lovely studio. Features an all white decor with white washed brownish wood floorboards. I enjoyed an intense yoga flow class that warmed me up for an afternoon of beach relaxation. Don't forget to bring water!
Cost: $20/class includes mat use.
4. Where to eat:
Very reasonable prices for Provo. $9.25 for an Omelette packed with veggies, bacon, and ham. Generous-sized, kid-approved crepes with bananas and Nutella for $9.75. Pancakes with chocolate chips for $10.50. A large, piping hot latte for $4.60. Shay's has a stack of games for the kids, including chess and balls (for playing on the lawn). Newspapers for Mom or Dad to catch up on the local buzz.  Inside and outside seating. Free wifi.
Cost: Varies
Fish Fry. 
If you're in Provo on a Thursday night, you'll find almost everyone on the island at Bights Park. You'll find reasonably local vendors serving reasonably priced local fare, free stage entertainment/music, craft and souvenir vendors, and local beer, Rum Punch, and drinks served out of Pineapples and coconuts. The Fish Fry is for everyone, including families. Street Parking is hard to come by–be prepared to walk a distance or circle until you find a parking space if you're not driving by shuttle bus or taxi.
Cost: Free admission.
We ate dinner here twice. Great food and an even better beach side location with live music. $20 for a large salad with guacamole and local baked fish on top. $12 for chips and guacamole. $9-12 for kids meals. $9 for generous-sized brownie sundae.
Cost: Varies
A great spot for lunch, with a local island vibe and friendly, laid-back service. Located on the edge of shallow water, so parents can supervise kids from the table. Serves local specialties, conch, the Island's famous Rum Punch, and generous portions for the price. $25 for a large avocado salad with grilled shrimp and a side of mashed potatoes. $5 for a side of kid-friend Mac & Cheese.  Located in an area on the island that some say has a reputation for being a bit rough and seedy, but it is only a short drive from the airport. We had no troubles getting there during the day. If you're nervous or unsure of the way, hire a reputable cab driver to get you to this colorful, memorable spot.
Cost: Varies
A great spot for hard or soft  ice cream, milkshakes, or packaged candy treats.  Indoor or outdoor seating. $3 kids' sized cones.
Cost: Varies.
A coffee shop with a neat Etsy-like gift shop. Even the choosiest child, will devour the amazing homemade ginger lemonade ($5). Outdoor shaded seating with a view of the bustling tourist district.
Cost: Varies.
Getting Around:
Depending on where you stay or what you plan to do while on the island, you may not need a rental vehicle. However, if you have a family or want to explore the island, a rental may be the economical choice. I found a deal on a minivan through Payless by booking a late reservation only three days before arrival. It was a gamble to wait that long, but worth it. I saved $125 on the rental by booking at the last minute, compared to booking two weeks earlier. Before you go, check with your home automobile insurance or credit card company to see if they offer insurance coverage, so you can decline additional insurance or high pressure tactics at the rental counter.
Safety Considerations:
Turks and Caicos is considered one of the safest countries in the Caribbean, Central and South American regions. However, it is not crime free. Armed robberies, villa/hotel break-ins, home invasions, car jackings, abductions, and home invasions occur, as do crimes against tourists. Crime rates are similar to large North American cities. The Turks and Caicos Tourist Bureau provides safety information for tourists here.
Though Provo feels like paradise, don't let your guard down, remain vigilant, keep a low profile, and take safety precautions, as you would at home or in any large city.
Additional tips:
-Consider staying at a resort/hotel/rental that is gated and patrolled. If you stay in a owner-rented villa, opt for one that is near other buildings, rather than isolated, is part of a resort or has a neighborhood watch or other security features
-Don't disclose the address/room/villa where you are staying to people you meet on the Island, even if they seem incredibly friendly
-Avoid driving or walking in remote, isolated areas of the island
-Tell others your travel plans, when you expect to return from outings, and/or let your hotel know your plans and who to call back home if you don't return by a certain time.
-If renting a car, don't leave valuables in the rental and remember you must drive on the left side!
-Do not leave cameras, iPhones, or valuables unattended on the beach
-Be mindful of wild/stray dogs
I'm not even a couple of hundred miles away from Provo, and the flight crew is just starting to make drink rounds, and I'm already thinking about a return. Turks and Caicos is truly a breathtaking place to experience–and it can be done without breaking the bank, with or without children in tow.
Have you visited TCI? What's your take? Drop a comment below.
Follow Me on Social Media! 😉
Please leave a comment. I'd love to hear your thoughts and feedback on this idea list.
Related Posts You May LOVE