A homeschooling mom who hits the road for an extended trip with an RV loaded with children shouldn't be without her vice. – Wandermom
Our Rv'ing the USA launch date is right around the corner. In one of my (hopefully) final pre-launch Amazon orders, I ordered a Cuisinart CBO-1000 Oven Central Countertop Oven, Brushed Stainless
. Sure, my rig has a pristine looking gas oven, but I've heard and read so many stories about why an RV oven isn't always ideal for warm weather baking (or reliable at producing good results anytime), that I couldn't resist this last minute impulse buy.
The $99 justification was easy: a homeschooling mom who hits the road for an extended trip with an RV loaded with children shouldn't be without her vice. Mine: gluten free chocolate cupcakes. Even if I'm boondocking in the back hills of the ol' U.S. of A, my rig's solar panels should be able to produce enough juice to bake up an adorable 4-tin batch of happiness and tranquility in each and every bite.
Look at this cuteness.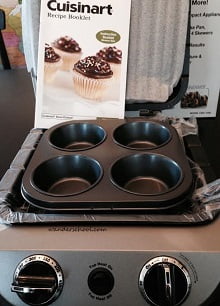 Of course, I also think the idea that it works like a regular oven (albeit a tiny version), makes kabobs (it comes with metal skewers), and grills toast/bagels is pretty sweet, too. But seriously, this oven had me at cupcake.
I can't wait to try it out!
Happy Wandering! Happy Homeschooling!
* * * * * * * *
Disclosure: We received no compensation for this post, however, there is an Amazon link, which if you buy through the link, we might just get a little bit of change to buy sprinkles for the cupcakes. 😉
What's your best RV impulse buy? We would love to hear about it!