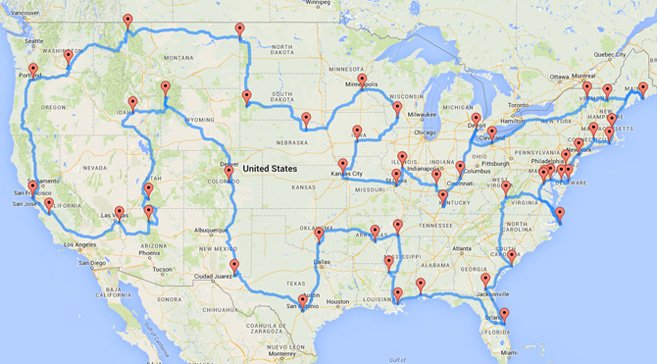 One Mom + 4 kids = Ready for the Ultimate Roadschool, Roadtrip Adventure.
Follow us on our ultimate roadschool roadtrip adventure! The Wanderschool crew is getting excited for our Ultimate American Homeschool Roadtrip!  We plan to RV all 48 contiguous States of the USA and then fly to Hawaii and Alaska.
Though we don't have plans to follow Scientist Randy Olsen's algorithmic mapping, which recently went viral and reveals the best way to quickly visit the 48 contiguous states, we are nevertheless psyched for miles and miles and a few more miles of driving.
According to Olsen's math, a non-stop driving route, that hits major destinations in the USA, would result in a 9.33 day route of 13,699 driving miles.
I think potty and "I'm soooooo hungry" breaks for 4 kids will easily add up to 9.33 days alone–not to mention the cumulative time of pit stops spent looking for "misplaced" pencils, journals, erasers, flipflop mates, and ipad chargers.   And somehow I suspect that we'll drive an extra mile or two beyond 13,699.  🙂
The Ultimate Roadschool Roadtrip Plan
We'll cover the East Coast of the United States first. Spending time in New England and all States along the Atlantic ocean. We'll spend time exploring Washington, DC. We will wing a lot of our trip, staying at long or as little in places. We do have a couple of check points to hit by certain dates, such as getting to Florida by a certain date so Wandertween can attend a swim training camp.
We also plan to hit a Bluegrass festival in the Catskills, Grey Fox, a yoga-music festival in California, a running camp for Wandertween in the mid-west, and another swim camp for two of the other kids out west. We plan to visit as many national parks as possible, and hike and trail run whenever and wherever possible.
We hope you'll follow our journey.
Happy Wandering!  Happy Homeschooling!
Follow our RV ultimate roadschool, roadtrip adventure on Instagram.