So, you've reached the point of no return.  You're ready to be a do-er and not just a dreamer.  You're super jealous, if not totally exhausted, after reading blog post after post after post about families who are living your travel dream.
You want to travel.  With your kids.  Now.  You don't want to wait until retire (and hope you can finally fund your travel dreams at that point or are then still healthy enough to travel).  You don't have a trust fund, however, so you know you've got to be realistic.  You have real bills to pay.  Oh, and there's that pesky detail of figuring out how to keep a paycheck rolling in.
You Know You Want to Travel the World…Or USA…Or North America…Or…. But How Do You Find Affordable Housing To Keep Your Budget Reasonable?
Anyone who makes a monthly mortgage or apartment rental payment knows that housing can chew up a big chunk of cash.  If you're looking to travel as a family on the cheap, but housing expenses have you a bit stressed and you desperately need a way to cut the travel budget….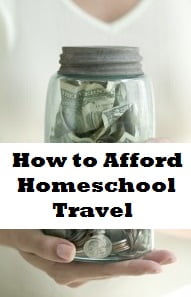 Do you…
(a.) Sell your sticks and bricks house (or end your lease early or wait until it expires) and travel the world as a family, and find cheap, creative ways to put a roof over your head;
(b.) Keep your house/apartment/cabin and travel the world as a family, and look for inexpensive accommodations–after all, traveling with kids carries a sorta, kinda, bigger price tag than solo travel;
(c.) Buy lots of lottery tickets and hope for the best;
(d.) Bag your dream (your relatives and friends think you're nuts for hatching a travel idea anyway); or
(e.) Come up with a creative plan that allows you to find affordable housing and live your travel dream on a budget that works for your family, which may or may not involve one or more of the above options.
THE ANSWER IS E: Creativity And Determination Will Help You Cut Your Travel Housing Budget 
Are you planning short-term or long-term travel?  In either case, you'll want to carve out a financial travel strategy and save hoard cash. The length of travel and your lifestyle will impact how much money you need when you travel.  Obviously, if you're a regular person, meaning someone who doesn't have a trust fund or who hasn't won a record-breaking Powerball draw (yet), and you plan to travel for the long-term (full-time), you'll probably need to come up with income to supplement your savings (i.e. a job).
But even if you're not the greatest planner, and you don't have a stockpile of cash, you can still travel sooner than later–if not, now.  Beyond figuring out how to make money on the go, finding telework gigs, starting your own portable business, building a passive income stream, or taking advantage of your employer's remote work or extensive travel options, you can cut your budget (and need for cash) by finding cheap accommodations.
Spend Less on Travel:  Cut Your Travel Housing Budget
Explore these options as possible ways to save on your family travel housing budget.
1.  Homeaway.  Lodging possibilities to fit a range of lifestyles and budgets can be found on Homeaway and at similar vacation rental sites, such as VRBO. It's possible to score deep housing discounts depending on location, time of year, length of stay, and timing of reservation. Our family has had many happy Homeaway experiences and we've lucked out with some great deals, including a $200/week stay at a beautiful mountain rental in Spain.
2.  Airbnb.  If you're looking to settle into a "real" house or apartment with all the comforts of home, a housing option on Airbnb might be a great pick.  Our family snatched up a lovely, centrally located, month-long rental in Paris (with fantastic reviews) using Airbnb at an attractive price–we lucked out with timing/price, as the owners decided to head out of town during the French holiday to show off their brand new baby.
3.  Housing Swaps.  If you have a house available to swap, you might discover a family who would love to trade homes with you for the short-term or longer.  For a family looking to keep travel costs low or to avoid having a vacant house while traveling, this could be a win-win.  Check out HomeExchange as one possible place to find swaps (Hat tip to Team Skaggs for the idea!).  You can also find swap possibilities on Craigslist and on membership group lists, such as Yahoo or Facebook groups.  If you have a particular destination in mind, shooting an inquiry to your circle of friends (e.g., via Facebook) might help you find housing by way of a "friend of a friend."
4.  Work Exchanges / Work Amping.  Will work for lodging?  If you have time on your hands while traveling and happen to have needed skills, work/volunteer exchanges could open doors to free or low cost housing.  Check out Workamper for ideas for RV owner work for lodging leads and Workaway or HelpX for budget traveler work/volunteer for lodging opportunities.
5.  Hotel Points or Club Discounts.  If you've amassed hotel points by way of frequent traveling, credit card, or other club membership or loyalty discounts, those points or discounts could open the door for cheap or free temporary lodging.
6.  Hostels.  Across the globe, many Hostels welcome families, offering simple family rooms (and often a simple breakfast) at reasonable prices. You can find info at Hostelling International.  Check into hostel membership or discount cards for added savings.
7.  Friends and Family.  Sometimes staying with friends or family in various locations is the perfect way to save big on housing expenses, especially if you happen to like each other!  If you're lucky, you might not have to pay a dime for the lodging itself, though you can graciously return the favor by offering up a bedroom in your home at some point, volunteering to make dinners or help around the host's/hostess' house, stocking his/her pantry, or taking your host/hostess out for a memorable dinner or event as a thank you.
8.  Couchsurfing.  Couchsurfing via online sites, such as Couchsurfing.com, might be an easy way to find a place to stay for one or two, but with a family, maybe not so much. However, there are families who do couchsurf and people who are willing to take in families for a night.
9.  RVs/Motorhomes/Travel Trailers.  I am continually amazed to hear the stories of families taking to the road in the USA, Europe, and around the world by way of recreational vehicles, such as motorhomes and travel trailers.  Check out Fulltime Families or a growing number of RV travel blogs, such as Gone with the Wynns, to see what I'm talking about.  It's possible to buy camping club memberships, such as Thousand Trails, ReadyCampGo, Good Sam, and Harvest Hosts to save significantly on camping costs.  Of course, there are also free "boondocking" possibilities.
10.  Tent Camping.  Tent camping is still a popular, low-cost way for families to hit the road and save big on travel budgets.  Campground discount programs and state/federal park land can help save even more cash.
11.  Tiny Homes.  Some families opt to downsize, build or buy tiny houses on wheels in lieu of a monthly mortgage payment.  They travel with their house–like a turtle traveling with its shell/house, and enjoy low cost house living.  Check out the Tiny House Blog for ideas.
12.  Car camping / Glamping / Eurovans.  Families have also found a way to reduce lodging costs by converting their vans, cars, old buses into sweet looking homes on wheels.  Check out YouTube for lots of great car camping hacks, such as how to mount temporary hammocks inside a minivan.  I recently learned from an awesome homeschool/mom blogger that if you do your homework you might happen to score a fabulous deal on a camper van!  Check out Craigslist, RV Trader, and Pinterest for cool ideas and deals.
Tips:
*Don't be afraid to ask an owner/rental company/dealer if they have wiggle room in the price or to cut you a deal for a longer stay. Go ahead and negotiate where appropriate.
*Research, research, research your housing options, keeping safety in mind when it comes to corresponding with owners/rental agents to ensure that a rental is legit and location safety.
*Read all of the reviews on a prospective rental, and do an independent Internet search to see if other reviews or comments about the rental or owners/rental company come to light.
*Be flexible with your dates, itinerary, and travel routes if possible.  Flexibility might open the door for great deals.
*Look for promo codes, rental discount codes, discount clubs, etc. on all purchases or reservations.  You might not save $ everytime, but many times you will.
 With a bit of creativity, you can come up with a plan that cuts your travel housing budget and allows you to live your family travel dream.
Happy Wandering!  Happy Homeschooling!