I had wanted to bring my kids to New York's Museum of Modern Art (MoMA) for quite a long time, but it wasn't until my 7-year old insisted on going to MoMA that it became a priority. She said, "Mom, I Googled a museum that we have to go to.  It has to be a good one because it's named after you, MoMA.  At first I thought it was in Paris, but Google says it's in New York!"
MoMA is indeed a good one.
5 Reasons Why MoMA is a great museum for homeschoolers.
1.  It's the perfect museum to visit if you don't think you're all that into art or museums, or are just diving into art with your homeschoolers.  There are some amazing works of art here, with terrific, easy-to-read, clear descriptions posted next to the displays.  Not all museums take the time to go into so much clear, descriptive detail.  My young homeschoolers could read about the artist or art (usually) without my help.  That's a plus in my book.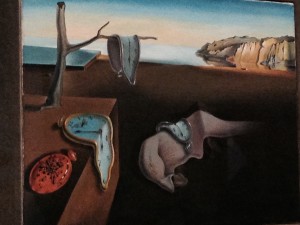 2.  Super Convenient location.  MoMA is near the popular, touristy stuff in midtown and easily accessible by subway.  Less walking to the museum means little legs will last longer in the museum.
3.  Kids under 16 are free.  A nice perk.  If you go mid-day when school is in session, your kids may just be among the few, if not only children, there.  I don't remember seeing any kids, besides mine, of course, there! MoMA also offers classes for kids and teens, even free classes for NYC teens.
4.  Amazing art displays!  My kids were pysched to see work from Vincent Van Gogh, especially Starry Night, and Salvador Dali.  After seeing Dali's work in the Dali Museum in Figueres, Spain, they love to see his work.  We were thrilled to find  his Persistence of Memory in New York!  I was most thrilled to find Andrew Wyeth's Christina on the fifth floor of the museum.  It was a total surprise! I didn't realize it was at MoMA.  My preschooler was excited to see a helicopter and jeep on display.  Most exciting of all though, my homeschoolers LOVED, LOVED, LOVED the Minecraft display.  Totally M-E-S-M-E-R-I-Z-E-D!
5.  Friendly staff.  The docents/guards/staff were nice and patient with the kids, and  they didn't seem too anxious about having a preschooler in the mix.  One guy took the time to explain a sculpture to my son.  Some ladies at an information desk encouraged my kids to collect all the "kid cards" and find the works of art in the museum (a scavenger hunt of sorts).
MoMA is definitely a great museum pick for homeschoolers visiting or living in the Big Apple!