I've been meaning to write this post for months.  Thinking about next year's travel adventures reminded me to finally write about surviving Paris sans Gluten!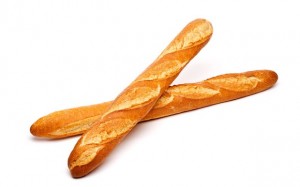 Looking back on my recent extended stay in Paris with my four young homeschoolers, my thoughts shift to Musee Rodin, the Saint-Germain piscine, Pont des Arts, Paris Plage, street art/graffiti, French language classes, and cafe lattes.  I can't help but smile and think about how much I miss that trip.
But when I think about our stay in Paris, gluten (or how much gluten I missed eating) is nowhere to be found.  Though my former gluten eating self loved, loved, LOVED baguettes, bagels, and everything baked with wheat flour, I know how much better I feel without gluten in my diet.  I'm not celiac, but I definitely have gluten issues.  The feeling and knowing how bad I would feel if I indulged in French pasteries or bread made it fairly easy to resist tempting gluten-filled treats in Paris.
So what did I eat?  Avoiding gluten gave me the chance to try different salads and eat cleaner.   I bought fresh fruit, veggies and herbs at local farmers' markets, and made lots of yummy food and snacks in our cute little Parisian apartment, like delicious guacamole. I also stocked up on gluten-free choices at Monoprix or the nearest hypermarche – Supermarche Carrefour.  Eating at "home" a bit more often than I might have otherwise and declining baked goodies, gave me a guilt-free excuse to indulge in cafe lattes at French cafes.  I tried lots of coffee at many different coffee shops.  My kids say, and they are correct, that my coffee addiction began in Paris.
I survived weeks in Paris without a single baguette or crepe.  I didn't make it to one of the dedicated gluten free restaurants in Paris, though I did have a decent salad at Brasserie Balzar (hat tip to Gluten Free Mom for suggesting that place for its gluten free options, though I actually thought the options were somewhat limited there or perhaps I was just too picky that day). For on the go "backpack" snacks, I found gluten free chocolate covered rice cakes (and a gluten free section) at the small Carrefour express/market stores scattered throughout Paris.
If you're dreaming about going to Paris but are hesitant because you don't do gluten, set your worries aside and start planning your trip!