Last year, the kids and I checked the Contiguous 48 States off of our travel bucket list when we road tripped around the USA in our 31-foot Motorhome.  With two States left to tackle, Hawaii and Alaska, I was psyched to recently find a rock bottom flight deal on Air Canada for our family of six (including hubby this time around, YAY!).
I was thrilled, as in over-the-moon excited, to have found the deal, which would save us two thousand dollars over another major airline carrier's best offering.  The itinerary was pretty close to perfect, too, with reasonable layovers and plane changes for the kids.  I was even more excited because in my pre-mamahood days, Air Canada (AC) was my airline of choice and it had been several years since I had last flown on AC.
I bought the tickets.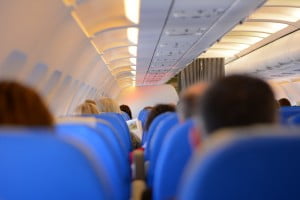 My credit card was charged.
Then I realized that I didn't reserve seats.  Somehow I bypassed the seat selection menu at checkout or I wasn't offered the seat selection option. Whatever the case, we needed seats.
I asked Hubby if he would kindly figure out a way to update our reservation with seats, so I could take care of some other things around the house since I had spent the entire morning researching fares.  He sweetly took to the task.
Imagine my our surprise horror when we learned that we would need to pay $10 per person per flight leg for advance seat selection and there were no exclusions or exceptions for families.  To sit together as a family on all of our flight segments it would cost an additional $360.  
The kicker:  we were booking so far in advance that the plane seating chart showed a nearly EMPTY plane.  But unless we paid these fees, there would be no guarantee come our travel day at flight check in that we would be able to sit together, according to an Air Canada telephone agent.  No exceptions.
Faced with the option of paying the fees, which seemed unreasonable and wrong, even more since, for whatever reason, we were not aware of this fee during the online checkout process, and it didn't seem right to put our childrens' lives in the hands of complete strangers next to whom them might be assigned, we cancelled our flight reservations.
Some of the thoughts that raced through my head:
What if there was an emergency?  Would a passenger sitting next to my child care for my child?  Would he or she even want to? What if my child were to choke on a flight meal?  
Would the passenger next to my child have a reflex to help–a parenting instinct? Would they call for an attendant? Would they worry about liability or getting sued if they dared to intervene?
What if my child was assigned a seat next to a sexual predator?  It's not like the airline does sex offender background checks on passengers prior to seat assignment, at least not to my knowledge.  
What if my child threw up or spilled a beverage or got a nose bleed?  Would a stranger or even a flight attendant assist?  If the airline could make no guarantees about sitting us together, it's hard to believe the airline would make any guarantees about care of my child sitting alone and apart from me.  
Was it fair or reasonable for Air Canada to put its employees (flight attendants) in the position of trying to juggle passengers at the last minute or at check-in before departure, or ask passengers to move their seats to accommodate a family?  
Again, what if there was an emergency?  A real, scary emergency.  With my whole family scattered around the airplane, would I be able to get to everyone?  
How can separating families be safe?
I can't believe Air Canada would try to make a quick buck off of families by seemingly extorting them–pay up, or else! 
How can this practice be legally permitted?
When we realized Air Canada wasn't going to budge on its position about fees, we immediately cancelled the flight. It was hard to believe that this very same airline, which years before had lost our luggage for the duration of a trip, compensated us for the inconvenience by buying us clothes, necessities, and upgraded us to first class on our return flight, was determined to put the bottom line above ensuring happy customers and repeat business.
Thankfully, Air Canada allowed us to cancel our flights without penalty because we were within a cancellation window.
We wrote a letter to Air Canada, expressing our disappointment with their advance seat selection fee policy.  We received what appeared to be an automated, form letter response.
Our disappointment wasn't just about money, though $360 was almost enough to purchase another seat at our purchase price.
It was disappointment over an airline's policy that had anti-friendly, discriminatory-against-families effects–not to mention against couples and anyone else traveling together and needing the assistance of their travel companions.
You can imagine how happy I was to read last week that forcing parents to pay extra if they want to sit with their kids may soon become a thing of the past.  If Colorado's Senator, Michael Bennet, is able to get support for his proposed bill in Congress, an amendment could be added to the Federal Aviation Administration's Reauthorization bill, that would require airlines to seat children with their parents.
Rather than paying $360 to Air Canada to ensure that our family of six would sit together on our flight segments to Hawaii, we opted to pay much more, almost $2K in fact, to fly on another airline that didn't penalize families for sitting together.
Sometimes doing the right thing is inconvenient and even painful, but you have to do it if you want to teach your kids that doing the right thing is the right choice.