Hiking the Tour du Mont Blanc (TMB)
Where do you park your car when you hike the Tour du Mont Blanc? Où dois-je garer ma voiture pour faire le tour du mont blanc? That's French, for hey, where do I park my car!
Whether you are starting the hike with your own personal vehicle or a rental car, you'll need a place to leave your car for the length of your hike, which ranges on average between 4-11 days and goes around beautiful Mont Blanc and Massif, and crosses through France, Italy, and Switzerland.
Many hikers hike the 105 mile (170 kilometer) Tour du Mont Blanc in 10 days or less. Some people even trail run this legendary and classic hiking route for fun.
Others race the route. The world class UTMB (Ultra Trail du Mont Blanc) trail race takes place each August on the Tour du Mont Blanc trail.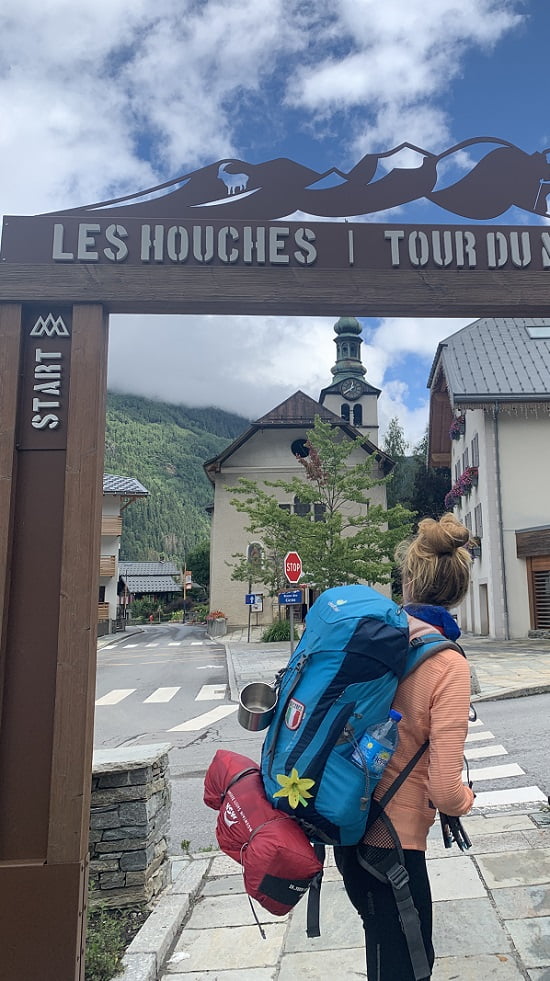 Car Parking at the Start of the The Tour du Mont Blanc
You have parking options.
If you're like most hikers, you probably don't fancy the idea of paying for long term parking. Anyway, why should you pay when there are free parking options? Instead, save your cash and put it toward a fancy bottle of wine or champagne to enjoy when you make it to the finish of the TMB.
Or maybe better yet, put it toward some really great coffee at some great local hot spots in the Chamonix – Mont Blanc area.
If you're starting out at the "Official" TMB start, which is in front of the Tourist Office in Les Houches, leaving your vehicle in Les Houches while you hike is simple and straightforward.
Hiker's Tip: If you need a route map, you can get one at the Tourist's office or at the Carrefour up behind the Tourist's office.
Here's Where You Can Leave Your Car at the Start of the Tour du Mont Blanc
1. Leave Your Car at the Bellevue Lift Parking Lot.
Be warned. This isn't a huge lot and it's almost always jam-packed.
However, it's a free lot where you can leave your car while you hike. It's especially handy because most hikers start the Tour by taking the Bellevue Cable Car up the mountain (from there they head toward the famous suspension bridge onto Col du Tricot or take the lower route toward Bionnassay).
Another benefit of parking at this lot is that you'll find the TMB Hiker-Friendly Kitsch Inn there, behind the Bellevue station. If you're a TMB hiker, as the Kitsch about their hiker freebie. They also offer kids' meals, which is helpful if you're hiking with children.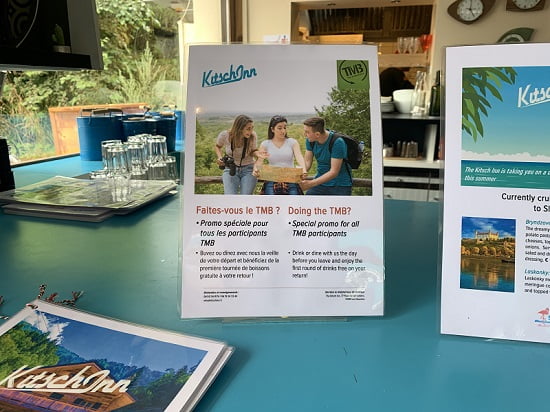 2. Leave Your Car at the TMB Parking Area Near the Télécabine du Prarion
This parking area is located near the Télécabine du Prarion (cable car) and before the Lac des Chavants (where there's a cute little snack bar beside the lake). Just past the Télécabine du Prarion, you'll come to a roundabout. Take the right exit toward "Parking" and toward the lake. This lot is free.
Here's a little map view of this parking lot.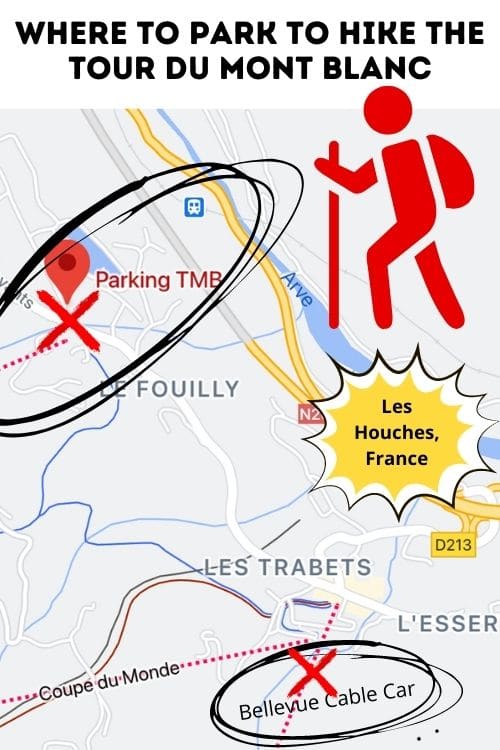 NOTE: While this is probably a no brainer warning, keep in mind that parking is at your own risk. Don't leave any valuables in your car, and if you do, ensure they are completely out of sight or locked into a safety compartment.
How Do You Get Back To Your Car if You Finish The Tour in Chamonix or Earlier?
If you don't hike or walk directly back to your vehicle, you can get back to Les Houches by taking the Chamonix Bus (Ligne 1 toward Les Houches). If you're staying locally post-hike, you're in luck, hotels will often give you a free bus pass card.
So, there you have it. Free parking. And one less thing to worry about while planning your tour.
READ MORE: Have more questions about the TMB? Read 21 Frequently Asked Questions about the Tour du Mont Blanc. And if you're still looking for a light, backpacking tent for your camping adventure check out 3 Awesome Ultralight Tents for the Tour du Mont Blanc.
Related Posts You May LOVE
If you fall in love with the TMB and think, how could I ever return to work again, maybe it's time for some career and life reinvention. Be sure to check out my digital nomad and work anywhere guides…
Best Books to Help You Learn How to Become a Digital Nomad or Overhaul Your Life
How to Create a Freedom Lifestyle
How to Live in Your RV or Camper Van for Free or Nearly Free