If you're looking for fun stay at home Halloween Celebration Ideas, keep reading. I've got you covered.
In this holiday guide, you will find fun Halloween ideas for a memorable and spooky celebration. I'm talking about creative ideas on how to celebrate Halloween at home with your little (or big) gobblins at home!
Affiliate Links Disclosure: My posts sometimes contain affiliate links, which mean that if you click on them and make a purchase or sign up for an offering, I may earn a commission, at no added cost to you. I received no compensation for writing this post, and it reflects my own experiences, research, and opinions. You can read my my privacy policy here. Thank you so very much for reading my blog!
Halloween at Home This Year – The Best Halloween Yet
Pandemic. COVID. Bad weather. Avoiding sugar. Whatever the reason you want to stay home to celebrate Halloween this year, rest assured, you can turn this Halloween into the best celebration yet.
7 Fun Stay at Home Halloween Celebration Ideas
Ready to plan the best Halloween ever? Here are 7 fun stay at home Halloween celebration ideas that you can pour your heart out planning or pull off at the last minute.
These are 7 super fun ideas and Halloween suggestions for staying at home with children–and with children of nearly any age. Or without kids! You don't have to have children at home for epic Halloween entertainment!
Halloween Fun Ideas… Let's Go!
1. Spooky Pizza Party.
With your family, enjoy a spooky pizza party. Or, grab your special someone and make pizza together! Spice up the night by making your own personal pizzas (or giant ones). Let your imagination run wild!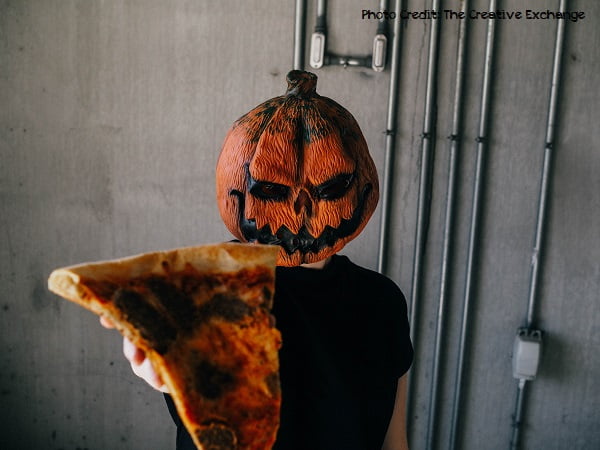 Halloween Fun Suggestion: Prepare pizza dough ahead of time, buy frozen dough (and thaw it ahead of time), pre-made refrigerated dough, or buy a mix. This is my all time favorite quick and easy pizza crust dough that you can make in minutes with the kiddies. Better yet, depending on your children's ages, assign them the task of preparing the dough.
Gather spooky pizza toppings and let everyone involved decorate their own pizzas or team up to create giant pizzas. Add excitement and fun by turning spooky pizza decorating into a family contest. Who can make the spookiest pizza?
Here are some super cool spooky and creative pizza ideas.
For a spooky spin on pizza, you could also try Easy Budget Recipe's Mummy Wrap Pizza Calzones.
2. Facetime or Skype Virtual Trick-or-Treating.
Staying at home for Halloween doesn't mean you can't Trick or Treat!
Skype, Zoom, or Facetime family and friends!
Halloween Fun Suggestion: If you have younger kids, you could plan this ahead of time and ask your family or friends to "open their front door" when your kids call to say "trick or treat!" Snap photos or screen shots of your virtual trick-or-treating with family or friends and save to put in a Halloween 2021 Stay at Home Photo Book or Collage.
And if your Halloween isn't filled with little gobbins running around the house, why not host a Zoom party or Happy Hour with other friends or couples? Think Zombie Vodka Cocktails! 😉
3. Halloween Movie Marathon.
Staying at home to celebrate Halloween begs for a Halloween Movie Marathon! If you're celebrating with children, there's surely a perfect, memorable, and age-appropriate Halloween movie out there that will make for a perfect stay-at-home celebration.
How to Determine if a Halloween Movie is Suitable for Kids
It can sometimes be tough to determine whether a movie, especially a scary or suspenseful themed movie, is suitable for kids. Over the years, I've looked to Common Sense Media's reviews of movies to determine whether they are good for kids. Common Sense Media has this list of Scary (But Not Too Scary) Movie for Kids.
Halloween Fun Suggestion: Check out movie reviews or film suitability for your audience to ensure the fun stays fun and not scary unfun.
4. Costume or Halloween PJ Night.
Halloween at home doesn't mean you or your children have to miss the costume fun. Make the night memorable by dressing up. Go for individual costumes or a family theme, like matching pajamas or cozy themed lounge pants perfect for watching Halloween movies together.
5. Spooky Game Night.
A night of spooky games is another fun way to make a Stay at Home Halloween the best celebration yet! Plan fun games for a family night of fun. Plan ahead by purchasing or making fun prizes for game winners, like fake vampire fangs/teeth, glow bracelets, or spooky Halloween candy treats.
Game ideas could include pumpkin carving contests, Pin the Mouth (or eyes) on the Pumpkin, spooky cupcake eating contests, Halloween Scavenger Hunts, or traditional games like UNO, Yahtzee, or Monopoly with a spooky prizes for winners. You can find other ideas in this fun compilation of 50 Best Halloween Games for All Ages.
6. GO WILD Decorating Your House!
Make this the year you hang gobs of fake cobwebs and plaster cheesy, fun, spooky decorations all over your living space (or outside to entertain the neighbors). Go wild and make your house glow like a pumpkin. If you're feeling extra enthused, take a stab at making your own haunted house (or haunted room). After all, who knows when you'll spend another Halloween at home anytime soon?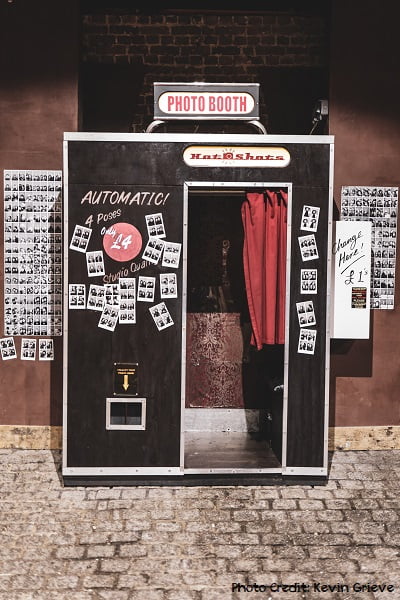 7. Photo Booth Fun.
Make Halloween a memorable blast by creating your own family photo booth. The photo booth is optional, but you or your kids could make one out of giant carboard boxes (like refrigerator or appliance boxes).
Make fun props or buy pre-made Halloween Photo Booth props. Spend the evening having photo booth fun. Or have a ridiculously fun photo shoot shesh. Compile your snaps to create a Halloween photo book to remember your Halloween at Home Celebration or share your pics on social media.
Bonus Stay Home Halloween Idea… Drumroll…
Another fun way to have a smashing good Halloween at home this year is to load up a huge family basket with candy (and even fun, inexpensive trinkets, like spider rings or spooky pencils). Seriously, Go Wayyyyyy Overboard!!! Let the kids pick a bunch of their favorite candy packages and then divide up the rest.
And then… have it's Candy Store Time!
With their Halloween loot, the kids each set up their own candy shop. Displaying their candy, even making little signs, if they wish. Once their shop is "open" for business, they can begin trading candy with each other. Grown ups can sit back and laugh over the deals being made (and haggling over candy)–or partake in the candy swap fun.
Stay Home, Stay Safe
Like any Halloween, staying home or not, stay safe and make amazing memories celebrating!
Follow Me on Social Media! 😉
Please leave a comment. I'd love to hear your thoughts and feedback on this idea list.
Share the LOVE
If this Halloween Ideas post was helpful, please consider sharing the love. Pin it. Tweet it. Share it. I truly appreciate it! 😉
Are you staying at home this Halloween? How do you plan to celebrate? Have a favorite indoor Halloween activity? Drop a comment below and share your ideas for making Halloween at home this year memorable and fun!