One of the silver linings of the pandemic is that more people are opting for RV, Motorhome, or Camper Van Life. If you've ever thought about nomadic living, right now might be the time for buying an rv and rv life–in a pandemic.
Affiliate Links Disclosure: My posts sometimes contain affiliate links, which mean that if you click on them and make a purchase or sign up for an offering, I may earn a commission, at no added cost to you. I received no compensation for writing this post, and it reflects my own experiences, research, and opinions. You can read my my privacy policy here. Thank you so very much for reading my blog!
And if you have children, perhaps this is the perfect time to consider roadschooling. With increasing remote learning and homeschooling during the pandemic, roadschooling, or learning on the road, is now an educational option within reach for families. The world is the ultimate classroom–national parks, nature, rural towns, etc.
My RV Lifestyle and Roadschooling Story
If you follow my Wanderschool blog, you know that my four children and I had a serious love affair with RV Life. We explored all 48 contiguous States of the USA by 31 foot motorhome. We then jetted off to Alaska and Hawaii to complete our ultimate roadtrip.
Yes, we crushed our 50 States of the USA Bucketlist! Talk about an experience of a lifetime.
Is the RV lifestyle awesome? Absolutely.
Would I pack up the kids again to life, travel, and roadschool via RV? In a heartbeat. Shhh… I'm already scooping out new, European RV possibilities.
Do I recommend RV living? Yes! Definitely. I wish everyone could live this way, if only for a brief time. It's eye-opening, educational, and humbling to live simply and travel. RV Life is a life changer.
And once you try it, it won't take long before you know it.
RV Sales are WAYYYYY Up During the Pandemic
Now is the perfect time to start RV'ing or planning the RV Lifestyle.
Reports suggest that RV and Motorhomes sales are going through the roof during the COVID-19 crisis. According to a recent NPR story, "recreational vehicles are perfect for self-isolating at 70 mph."
RV Life gives people who crave travel the opportunity to do so, while also sheltering in place and respecting social distancing rules.
Another report suggests that RV manufacturers, such as Thor Industries and Forest River (one of my favs because of their tiny, A-frame pop-up campers) have noted major spikes in RV demand during the pandemic. According to that same report, RV Dealers are also seeing this rising trend.
RV Life is the Perfect Way to Ride Out the COVID-19 Storm
There really is nothing quite like RV life. I've said it before, and I'll say it again: RV Life is the best. My children fondly recall our RV Life as one of the best experiences of their young lives.
Living in, traveling, or vacationing in an RV, Motorhome, or Camper Van is the perfect way to ride out the pandemic. This is especially so if you are able to work remotely or virtually from anywhere, which many people can now do because of the pandemic.
When you're living in a self-contained RV, you can respect social distancing. You can travel. And, now, many people can work from the road…or from anywhere…provided they have a solid Internet connection.
But one of my favorite parts of RV Life is that you can literally drive, move, or live wherever wanderlust takes you. You don't have to cram into a crowded campground.
Home is Where You Park It
In an RV, you can live in so many places–unbelievable places, with priceless views… the sky is the limit.
Even better, there are many places where you can camp or live for virtually free or at very low cost in your RV.
You can even roadschool your kids…schooling on the road, another way to homeschool.
Where to Start if You're Thinking About RV Life, Summer RV Travel, or Roadschooling this Fall
If you're thinking about the RV Life, Summer RV'in, Roadschooling this fall, or living the digital nomad lifestyle, you'll find some great reading on the blog.
I've compiled some of the popular Wanderschool posts here below related to #RVLife and Roadschooling.
This read offers insight into what you could potentially encounter on the RV shopping lot, particularly if you are female.
This read offers perspective about small space living with kids, family–and even pets.
It may be hard to believe, but many discover that RV living and the travel lifestyle saves money!
Camping memberships can be a great way to save big bucks while living the RV Lifestyle. Certain memberships, like Harvest Hosts, give you the opportunity to park your RV and camp at some pretty sweet locations, like wineries.
If you're curious about how schooling your kids on the road works, read about Roadschooling.
Roadschooling is just one of the ways that homeschooling works! Discover why so many families are in love with roadschooling.
If you're wondering what you should make sure you buy for your RV before heading out on your epic adventure, read 10+ Must Have Gadgets for Your RV or Camper Van
This is not your ordinary gear list. These are items that newbies might not think about in advance. Check it out!
If you're wondering if you have what it takes to RV as a solo parent, read about 50 State RV Tour – Solo Mom Travel
Yes, solo parents can do this too! The RV Lifestyle is for anyone!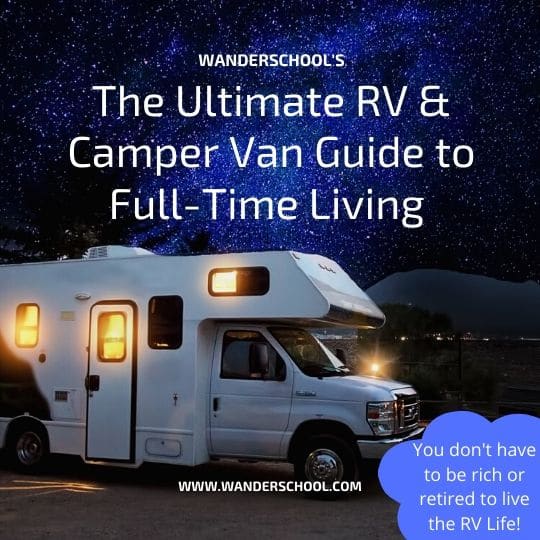 Follow Me on Social Media! 😉
Please leave a comment. I'd love to hear your thoughts and feedback on this idea list.
Drop a comment below if you are seriously considering the RV Lifestyle and/or roadschooling. Why did you decide to make the leap into RVLife?