Cape Town, South Africa with Kids
I'm going to start with this: Cape Town, South Africa's natural landscape is absolutely beautiful.
The people are friendly.
The food is great. And, the food presentation is fancy, even at 'mall' restaurants. For the food quality and portions, the prices by U.S. standards, are generally inexpensive.
Our Cape Town, South Africa Family Travel Adventure
Our trip to Cape Town in 2018 got off to a rough start. That start began at JFK airport.
I had previously confirmed that as Americans we didn't need any sort of travel visa. But then I read online that a parent traveling solo with a child would need to present a birth certificate, in addition to a passport for a child.
On this trip, my sweet husband and baby daddy was booked to travel with our brood of four. This doesn't happen often! Accordingly, we didn't think twice that we'd need to show up at the airport with birth certificates. We also didn't receive any airline instructions or reminders to bring them.
To get to JFK, we had traveled several hours by car from another state. When we arrived at the airline counter, we were asked for the birth certificates or copies of them. We were told we couldn't board without them. This began our travel nightmare.
Check and Double Check Travel Requirements
We quickly searched through our online/cloud files and could only find one child's birth certificate! Eeeek.
We'd have to go ALL THE WAY home to get the birth certificates. The airline re-booked us on the next available flight. Later that night.
I decided I could get on the next plane home and go get the birth certificates. That flight would leave JFK in an hour.
I could do this.
After the flight, I would then need to get a ride and drive nearly two hours to get the birth certificates. With literally minutes after grabbing the birth certificates, I'd need to rush right back to the airport.
Why? So, I could catch a return flight back to JFK, in order to make it onto the re-booked night flight.
Fly, drive, grab certificates, drive, fly.
Easy Peasy. Ummm, not quite.
At every juncture there was a delay.
Seriously. No exaggeration.
The plane out of JFK had a mechanical. This resulted in me running down the airport corridor to beg the airline to change my flight to another flight scheduled to leave minutes later.
Once on that flight, just barely, that flight also had a mechanical.
This mechanical resulted in me arriving to my home state late. Therefore, once I had the certificates in hand I was already too late to catch my return flight.
I would have to catch the first flight of the next day! At this point, my husband was still at JFK with my four children. Waiting.
The Next Morning – Trying to Fly to Africa
When I finally boarded the flight the next morning, that flight was also delayed due to a mechanical.
Well, to be precise, someone forgot to close the fuel cover after refueling the plane, so we had to wait.
Frantically texting my husband, I knew that when my flight arrived at JFK, I would have exactly 30 minutes to switch terminals and board a second re-booked international flight to Cape Town before the plane door closed.
Cut to the chase – Getting to Cape Town.
The plane arrived a few minutes ahead of time, despite the schedule.
I was feeling optimistic about catching the international flight and super excited to reunite with my family. However, immediately after landing, that hope was nearly dashed. The plane had to wait on the tarmac for what felt like an hour for an open gate. When the 'ding' came, I ran up the plane aisle to the cabin door. First in line to get off the plane.
But then there was a delay opening the gate!
I watched, feeling paralyzed and utterly powerless as airline crew tried repeatedly to connect/lineup the jetbridge to the plane. I was down to 15 minutes.
Finally the door opened.
I ran so hard and fast through one terminal to the next. I surely looked ridiculous. The airline had arranged to fast track me through security and escort me to the flight. I jumped on the train shuttle.
When the door opened at the terminal, there was my husband. He nodded, and I knew I was too late.
That was the start.
Just like you can't judge a book by its cover, it's certainly not fair to judge an entire trip by its start. However, the entire time I kept wondering, Is this Delay Meant to Be? Is my family not supposed to go on this trip?
Thankfully, the international airline was phenomenal. Actually, one particular agent was wonderful. She was truly an angel, made repeated flight changes for us in light of my delays, and offered calmness to my family.
Having missed the flight, we were rebooked once again. Now on the flight the following morning. We would now fly to Cape Town two days later than originally scheduled.
Cape Town via London
Things started to look up when we arrived back at JFK the next morning. We were gifted airline lounge access before our flight. Thanks to the airline! The agents were very sympathetic.
Oh my, the kids went crazy with the food and unlimited, lightning fast wifi.
Our new itinerary included a surprise layover in London which allowed us to explore the city for an afternoon.
Boarding!
Finally, the time came to board our flight to Cape Town. When we arrived at the airline counter after going through security, we were told that we couldn't board without a marriage certificate! What? Another issue?
At this point, any calmness left in me was gone. I freaked. This requirement was never mentioned anywhere or by any airline agent. Not to mention, our children and my husband and I all share the same last name, which was on their passports and birth certificates. AND, all of my children look so much like my husband and/or me that there is absolutely no way anyone in their right mind could think they didn't belong to us.
Thankfully, due to another upcoming adventure, I had a copy of the marriage certificate in a recent email. The agent said an email copy of the marriage certificate would be fine.
Another Problem. Seriously?
And then…. when I pulled up the marriage certificate copy on my phone, the agent said he couldn't read it. He then said he didn't think he could accept it because it wasn't in English and wasn't translated! (We were married in another country). I had to persuade him to look closer, as it did have the English in small text, but he still insisted that he would have to talk it over with his supervisor first before accepting it.
A Sign?
At this point, I was nearly completely convinced that this epic hurdle-after-hurdle must be one of those signs that people don't pay attention to, and regret later. I thought for sure our family shouldn't travel onward.
But of course… we did.
Cape Town
We finally arrived in Cape Town.
At immigration, we weren't even asked for birth certificates or the marriage certificate! I also learned that the birth certificate requirement was literally being removed from South African law two days later, citing a reduction in tourism revenue. Hmmm….you don't say?!
The Scoop
Cape Town was indeed beautiful. The people were friendly. The food was great. But I said all of this before.
Perhaps we simply got off on the wrong footing. However, I never felt settled in Cape Town. I never felt comfortable.
My large brood constantly drew attention, despite trying to 'fit in' and not draw attention to ourselves. This was the first time in all of my travels that I truly felt I was far out of my comfort zone traveling as a large family. Had it been just me or my husband and I, or perhaps a smaller family, I think Cape Town would have likely been an amazing experience.
Safety Warnings
One of my favorite things to do with my family is hike (and run).
I didn't like seeing safety warnings everywhere, including don't hike or walk unless you are in large groups, even at popular tourist sites. (We live to hike and run).
I didn't like finding brochures that warned tourists about safety. When people familiar with the area warned me to keep my children in sight always, I felt I couldn't let my guard down anywhere, not even slightly–even at a quaint coffee shop.
I can honestly say, I felt like I held my breath during a lot of the trip. I felt thankful for the earlier delays which resulted in a shortened trip. Maybe everything does happen for a reason.
Penguins and More
I know many people have unbelievably positive experiences in Cape Town. We had some great ones there, too, like seeing the Penguins at Boulders Beach, hiking on Table Mountain, and exploring a vineyard.
We also had a few experiences that made me really nervous. For example, there were two separate occasions when it seemed we were being followed by two different groups of people, once back to our hotel and once in a shopping mall. We also had a disturbing experience at an ATM.
I know well, anything can happen anywhere, but it seemed like there was one too many things for my comfort that came our way here.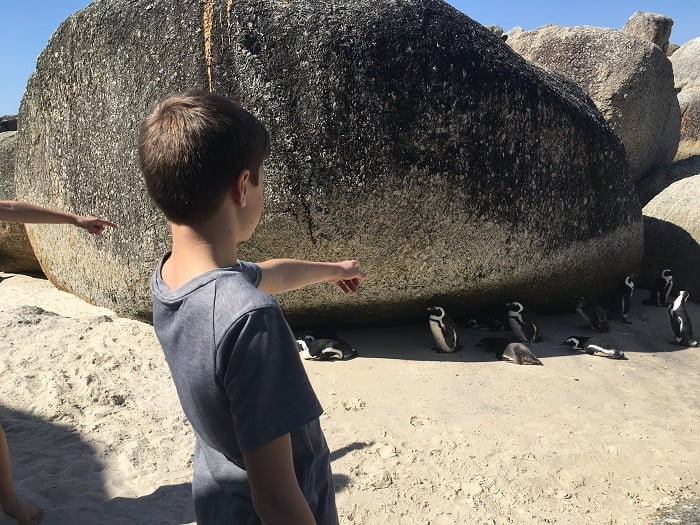 I think if I were to go back again, I'd just prefer to go without young children. Why? So I would worry less about them. Or perhaps, I'd pick another location in South Africa or in Africa known for a higher real or perceived safety index.
Please keep in mind, this is only one perspective. I am grateful to have experienced Cape Town. It offers natural beauty that is like no other I've ever experienced.
Drop a Comment – Cape Town
Have you visited Cape Town as a family? Or do you have plans to? I'd love to hear about your experience. Drop a note in the comments below.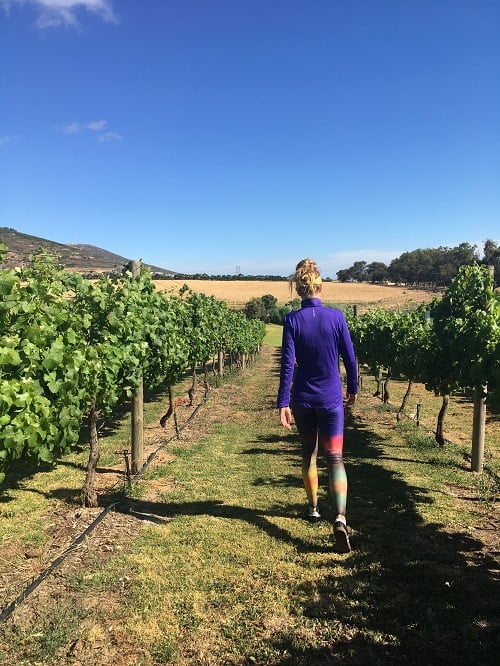 Follow Julie on Social Media! 😉
Related Posts You May LOVE