When I was in high school in the 90s, I faithfully worked out to my Cindy Crawford VHS tape (what would now be considered 'conditioning' or cross-training for XC Running).  To this day, I still give Cindy credit for creating side crunches.
I remember begging my mother for a black spandex, one-piece farmer john style workout outfit to copy Cindy's signature look. Yes, she bought it for me and I rocked it– no comparison to Cindy, of course, but it was enough to radiant confidence while struggling through those epic side crunches.
After Drew Barrymore, Cindy Crawford was the only other coming of age celebrity I admired.  Maybe it was because she didn't seem self-conscious of her mole.  I had an authentic mole in just about the same spot, and I was self-conscious of it.  Note: that mole which I would later come to be kinda sorta okay with was later ripped off by my fourth child while breastfeeding (surely because I was so exhausted after extended breastfeeding, homeschooling, and raising four young children to remember to clip baby #4's nails long before they turned into claws capable of shearing off a so-called beauty mark).
But I think the reason I most admired Cindy as a teenager was but because she seemed like someone who could positively influence women, as a leader to define themselves for themselves on their own terms–and to realize that that they can trust themselves in the process.
Becoming by Cindy Crawford
So, can you imagine how thrilled I was to learn that Cindy Crawford happened to be in my NYC backyard today (and I happened to be in NYC and not on the road traveling), launching the release of her new book Becoming by Cindy Crawford at Barnes and Noble on 5th Avenue with a book signing?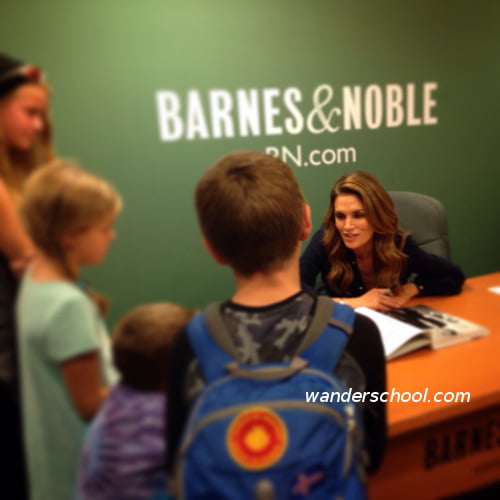 After an outing to MOMATH (the Museum of Mathematics), the four kids and I were headed uptown when we discovered the seemingly reasonable Cindy Crawford book signing line outside of Barnes and Noble.  After buying a copy of the newly released book, we jumped in line.
Hello…Isn't homeschooling amazing?!?  One moment we're learning about hyperboloids, a few minutes later chatting about homeschooling with a supermodel–in the Big Apple of all places?
While waiting in line, my 12 year old daughter jumped right into reading Cindy's book and flipping through the pages of beautiful photography.  I read over her shoulder.  We both looked up periodically to respond to the one question people passing on the street wanted answered: Who are you waiting in line to see? 
The Book and On Meeting Cindy
Becoming is written in a lovely conversational tone.  From the first page, it's apparent that Cindy speaks from the heart about her life and experiences in Becoming who she is: Cindy Crawford.  It's apparent that she is a woman who has discovered comfort in her own skin and wants to encourage other women to find a similar comfort with their own identities.
Of course, as a mom I was most intrigued by Cindy's chapter, The Balancing Act, in which she discusses balancing family, work, relationships, fitness, and philanthropy.  I read it immediately (and even asked her to autograph that page since it seemed totally fitting given circumstances).
Though she admits that balance is a big challenge, there is no mistaking that family is Cindy's priority.
My sister once told me that one of the greatest things about having kids is that you don't have to figure out your priorities anymore; you're looking right at them.
When meeting Cindy with my four children in tow, she seemed incredibly humble, kind, sincere, and most remarkably, understanding of the challenging job it is to be a mom.  Even cooler was that she didn't shy away from talking about homeschooling (her kids are schooled through a mix of homeschooling/independent school learning).
This humble, kind, and sincere theme seems to permeate her book–at least in what I've so far read.  My once teenage hunch that Cindy Crawford might be an inspirational woman to other women, not solely because of her beauty, may have been spot on.
As soon as the kids are fed, bathed, tucked in, given glasses of water and more water, and I finally find a quiet moment between planning tomorrow's educational adventures, cleaning the house, and folding laundry, I will sit down and keep reading more from Becoming by Cindy Crawford.
* * * *
Becoming By Cindy Crawford: By Cindy Crawford with Katherine O'Leary
Release Date: September 29, 2015
ISBN-13: 978-0847846191
#cindycrawford
#becoming