Though roadschooling, worldschooling, USA RV travel, and splitting time in two locations may sound like a pretty awesome way to grow up, one huge, if not gigantic challenge our family faces is making commitments to long-term activities and educational programs.
For several years now, my oldest has begged to take martial arts classes.  However, splitting time between two primary locations, along with other travel, has made finding a training program incredibly difficult.  Outside of the Big Apple, we have (and I'm not exaggerating) three martial arts programs to choose from–with a few more options if I could get over hauling the kids 45+ minutes in the car each way to practice.  Coincidentally, practices at these schools conflict with at least one of my children's regular activities. Sure, I could limit my children's activities and prioritize martial arts above the other activities or educational classes, but I want my kids to pursue those activities or classes and receive martial arts training.  Specifically, I wanted them to learn Jiu Jitsu.
In New York City, there are tons of martial arts schools, all featuring different styles, reputations, and typically hefty NYC price tags.  Finding a financially viable option for training four children is no easy task.  Go ahead and check out some of the scary rate pages of some of the schools in and around Manhattan. I have a hard time understanding how people in the city can comfortably chug $20 shots of liquor (the same ones that would be a fraction of that outside of NYC), let alone pay outrageous fees for kids' classes, especially ones where my kids are treated as numbers (or maybe worse, a place focused on rewarding kids with colorful belts, rather than ensuring they have a thorough skill set and experience in self-defense) in a business where money is so blatantly the only and obvious goal.  Maybe that's just the New England, practical, Country Girl in me, who believes in supporting businesses and people who exude bigger, brighter and more heart-led objectives.
Well…one day it happened.  Sometime ago, I stumbled upon an online mention of Unity Brazilian Jiu-Jitsu in New York City.  I'm pretty sure I saw the name on a homeschool Yahoo list, but only recently looked up the school.  As soon as I found the Unity Website my heart skipped a beat!  Not only do I think the website looks pretty fabulous, and I have a thing for black and white photo heavy themed websites, but I saw HOMESCHOOL CLASSES.  What?!?!  Did I win the martial arts education lottery?  It seemed that I discovered a school with flexible scheduling that wouldn't force my children to pass up other activities which are often offered at traditional afterschool class times.
Love At First Sight
I couldn't wait to schedule a visit to Unity.  Our first visit was to Kids Class on Saturdays.  We were greeted by Ana, and immediately felt welcome at Unity. We were surprised and thrilled to learn that there was another homeschooling family training there that at the same time.  That was pretty cool because in NYC, it's not everyday you bump into other homeschooling families, unless you are attending a dedicated homeschool event.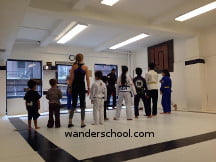 It was obvious from the start that Unity Jiu Jitsu is different from most, if not every place in NYC.  Maybe it's because Ana herself was homeschooled and hails from New England (if you're from New England, I know you had to have just smiled reading that), or because she and her husband and their close-knit training circle are totally serious about Jiu Jitsu and improving lives through the sport. Clearly, this is a place where everyone who wants to seriously learn the sport is welcome.
From the Unity Website:  "We run a top-notch Jiu Jitsu academy in the heart of midtown in New York City. All of our instructors are still actively and successfully competing at the highest levels of the sport. Our dream and goal is for Unity Jiu Jitsu to be a school where, male or female, a serious student training only at our academy can become a World Champion; where a student in their early teens can come and experience all the benefits of a martial arts lifestyle; where a hobbyist can come and enjoy themselves while exercising and learning; where everyone comes together in a family-like atmosphere, with the mutual goal of improving their Jiu Jitsu, and allowing Jiu Jitsu to improve their lives."
Whatever it is about Unity, it was love at first sight–or first class–for my entire family.  The kids are psyched for classes and before falling asleep ask if they get to go to Jiu Jitsu in the morning, which makes me a very happy homeschooling mom because I know that it seems like we've found a great fit for our family.  What makes me even happier is that Unity understood our crazy lifestyle and financial constraints of martial arts training in the city, and came up with an arrangement that will work for our family. Not only am I totally grateful to Unity already, but I'm overflowing with gratitude that our family stumbled across this martial arts Gem in the heart of Manhattan, after years of trying to figure out how to bring Jiu Jitsu into our children's lives.
If you're looking for quality homeschool Brazilian Jiu Jitsu classes in the city taught by world class athletes and champions, and classes in a laid-back, comfortable environment, you really should check out this place.
Happy Wandering!  Happy Homeschooling!
P.S. Happy reader, so you know, no compensation was exchanged for this post.  If you're a regular Wanderschool reader, you know I strongly believe in supporting businesses that aren't afraid (and actually strive to make it the heart of their business) to go the extra mile for people and the community.
#unityjiujitsu