We're taking a short timeout from our 50 States Tour to spend a few weeks in NYC, catching up with the people, places, and things we love most about The Big Apple.  We'll be back on the road soon, but in the meantime, we're soaking up as many cool classes and educational opportunities in the city as possible.
I'm continually amazed by the plethora of free and inexpensive opportunities and experiences that are available in New York City for kids and families–ones that make for well-rounded and fun homeschooling, not to mention happy, willing, and eager homeschool students (and a happy homeschooling mom).
This past week the Wanderschool kids participated in a number of incredible opportunities and enrichment activities.  Nearly all of the activities were free!  I even snagged a free outdoor yoga class on the lawn of a park with a lovely view of the Statue of Liberty!
Some of these opportunities included free ping pong and games in Battery Park City, juggling classes in Bryant Park, and a free martial arts intro class.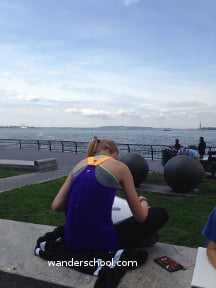 The kids also participated in a landscape sketch class, an open play & reading hour program, and an arts & crafts class, where the youngest Wanderkids made mock telescopes and binoculars.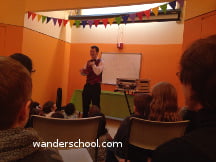 The kids also attended what they think was the best ever magic show EVER performed by Magic Evan at a library as part of a New York Public Library Summer Reading Kick-Off.  He was pretty awesome, and I'd hire him in an instant if I believed in keeping up with the NYC Jones' when it comes to kid birthday parties (I'm a simple pizza and cake or cupcakes kind of mom).
We also checked out the free Ms. Frizzle and The Magic School Bus exhibit in Bryant Park.  The kids enjoyed checking out the science exhibits aboard the bus, but it was slightly unfortunate that we were ushered through so quickly as the kids were incredibly eager to read and learn about what they saw, such as the (um…dead) Tarantula and the parts of the ear display.
Of course, they also scored free doughnuts as part of World Doughnut Day!  We also finally scheduled a free visit to Sony Wonder Technology Lab!
To think that these were just a few of the free offerings that the kids participated in, and that there are SO many opportunities that await discovery, is slightly overwhelming (it's impossible to squeeze everything into the calendar), but nevertheless incredibly exciting.
I could easily spend a whole day (and sometimes it seems I do) just researching on my computer or phone cool and fabulous homeschooling opportunities, activities, and events.  Finding awesome free events is like icing on a cupcake.  It's super sweet and there's the inevitable, and highly addictive, sugar-like rush that comes with scoring a learning opportunity for cheap or free!
If you're looking for free or cheap NYC homeschooling opportunities, some of my favorite resources include:
* Mommy Poppins
* The NYC Homeschool Yahoo Group List
* The Park Slope Homeschool Yahoo Group List
* Red Tricycle
* Museum of Modern Art
* The Metropolitan Museum of Art
* New York Historical Society
* Time Out New York
* The events sections of all those free little newspapers that appear in boxes scattered around the city.
Happy Wandering! Happy Homeschooling!