Roadschooling takes a bit of faith.  You've got to trust that kids naturally want to learn, explore, and challenge themselves. You've got to trust that even when there isn't tangible evidence of progress, such as a completed worksheet that can be scored or analyzed, that your child is indeed learning.
When you're homeschooling on the road, on extended travel or just for a day, you sometimes have to keep your fingers secretly (or not so secretly) crossed behind your back that at the end of the day your child will have a little extra knowledge, a new idea, or a new concept tucked away up under his or her skull.
For us, homeschooling on the road is a mindset.  Every stop along the route, every moment, every discussion is an opportunity for learning.  It's not that we're "doing school" the whole time when we're on the go, but we view life and our travels as one big learning adventure.
Homeschooling on the road is a mindset
Our recent trip to beautiful Burlington, Vermont is a good example of our one big learning adventure approach to education.
We woke up ready for adventure!  We started the day with a morning stop for yummy garlic bagels (a scrambled egg with Vermont Cabot Cheddar Cheese for gluten-free me).  🙂   We then took off to the ECHO Science Center on the Lake Champlain Waterfront.  The kids had fun touching sea stars, learning about water and the formation of the Adirondacks and Green Mountains, checking out barnacles attached to bicycles, and playing with the sand contour/watershed exhibit.
After our ECHO visit, we went to Orange Leaf on College Street…yummmm!  The learning adventure here was learning about measurement and independence in self-serving ice cream and scooping toppings.  The little guy is always thrilled when he can pull the ice cream control handle and serve himself.
We then went to Dobra Tea on Church Street for afternoon tea.  The kids love visiting the Dobra tearoom when we visit Burlington, since they can sit on floor cushions in the little platform rooms and sip tea on tables that are just the perfect kid size.  Wandertween was disappointed to learn that Dobra was out of hummus, since she loves the hummus and veggie platter. Next time! However, she and the other kids were happy to sip the Eastern Winds Tea (a blend of jasmine, rose petals, violet leaf, rosehips, hibiscus, cinnamon, ginger, orange peel, star anise, and cloves) and enjoy Dobra's delicious rice.  There's always so much for the kids to gain from the peaceful experience of going to Dobra, especially educationally such as about teas, culture, and customs.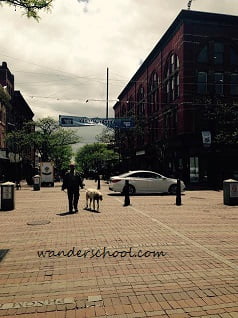 After some window shopping on Church Street–and a longer visit to Lululemon so I could try on some cute yoga tanks, we headed to the Burlington Police Station to pay a parking ticket (ugh…patient parenting through a temper tantrum clearly doesn't always pay…we arrived back at the car just as the meter reader slapped the ticket on the windshield…if only I had just picked up the little guy and ended his not-so-peaceful protest and carried him, I would have had an extra $15 to put toward another cute yoga tank, but I'm sure the City of Burlington can put that cash to good use).  🙂
Lots of learning opportunities in this part of the day!
We had lots more roadschooling fun later in the day, but that's for another time….