Key West is now one of my favorite places for sunshine and R&R in the USA.
We stayed for four nights at Boyd's Campground on Stock Island in Key West.  Our campsite was right on the water, with our RV's rear bumper only feet from the water's edge.  Though sites were close together, palm trees separated our site from our neighbors.  The campground was quiet and peaceful, unlike the experience some have shared on TripAdvisor.  The ladies in the office were kind and helpful.  The campground had a fabulous pool, where the kids spent nearly every waking minute when we were not off exploring Key West.
We loved the Caribbean/Latino food at Paseo.  So much so, that we grabbed lunch there twice!  The first time, taking our food to go and heading to Smather's Beach.  The next time, after running a morning 5K.
We waited in line in the blazing sun to have our picture taken at the gigantic Southernmost Point buoy.  We encountered Roosters crossing the roads in downtown Key West.  We ate at the Southernmost Cafe.  We hung out on Duval Street, eating ice cream and checking out the used bookstore (right off Duval).  We had smoothies, treats, and iced mocha coffee at the Cuban Coffee Queen.  We ate gluten free pizza at Roostica.  We hung out in beach chairs on the water's edge, enjoying the warm breeze and hot sunshine….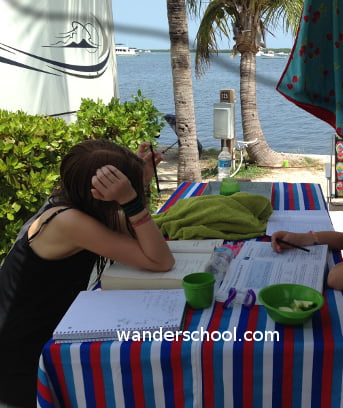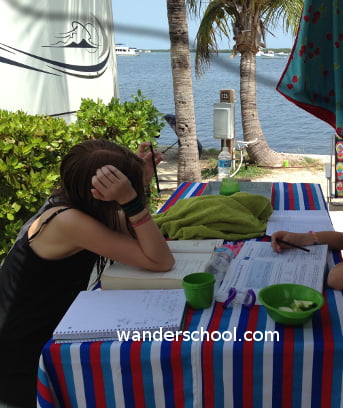 And, the kids did Saxon math lessons during downtime, under the RV awning, next to palm trees and turquoise water.
I'm already dreaming about another trip to Key West.