After living in France for months this year with my four children, which I will write more about soon, I've come to see that the French really do have a particular way–let's say, often a very particular way–of doing things.
I've traveled and spent a lot of time in France over the years. There was that hot August month in Paris solo with my four kids, that time roadtripping along the Mediterranean after walking the Camino de Santiago in Spain (oh, how they were sooo tiny then), those times crewing and cheering at various UTMB trail running races, and that time hiking the Tour de Mont Blanc with the kids.
I thought these travel experiences, combined with what I had gleaned from my family's French roots and my high school French teacher (who was unmistakably French in every possible way) imparted a decent education about France and its culture.
Pas Possible! How Wrong I Was and How Much I Have Yet to Learn
After living in France, I've learned this: there is so much to learn. Just when you think you've figured out something or you think you know something, you probably don't.
If you stay in France long enough, some the things you'll learn will surprise you, put a huge smile on your face, annoy you, drive you nuts, and perhaps even blow your mind.
Here are 13 things the French do:
1. Forget About Clothes Dryers.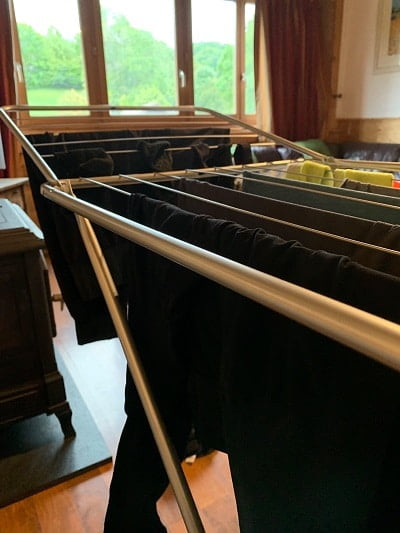 In France, what you're going to wear for the week requires pre-planning. France is big into energy conservation. Hanging your clothes on a line dryer or drying rack is how you'll dry your clothes. After the sun has gone down or on damp days, you may find your living room (salon) or kitchen overflowing with freshly washed, hung laundry. Clothes dryers just aren't popular for energy reasons. You'll find drying racks for sale in grocery stores, sometimes near the wine, if that says anything. 🙂
2. French Bureaucracy…The French Have a Thing for Paper.
Despite France's eco-conscious push, it may come as a shock to know that France loves paper. Well, at least the government does. France even has its own standard paper size A4, which is slightly longer and skinnier than the American standard 8×11″ paper.
The first big purchase I made in France was a printer. Why? Because France requires many things to be printed, from visa forms to copies of electricity or Internet bills to medical authorizations to banking application materials. And on A4 paper. France simply doesn't do the electronic thing like many other countries do; in fact, online banking seems like a "new" concept in France. French are big into presenting or keeping dossiers, folders containing your personal documents needed for various applications, such as applying for an identity card, an apartment, or even for registering your child for a short sports program. Even some banks insist on sending monthly paper statements. My kids were floored when we made a trip to the local Prefecture (government office) and saw a giant wall-to-wall and floor-to-ceiling paper filing system behind the main desk. They asked if this is what the 80s looked like when I grew up. Hmmm…. 🙂
3. Pass the Cheese.
When you get invited to someone's house for a meal, there will be cheese. The French do cheese. And they do it at the end of dinner. In the Alps, one plate of five, local cheeses is typically presented, including the region's specialty (in Savoie that's usually Reblochon).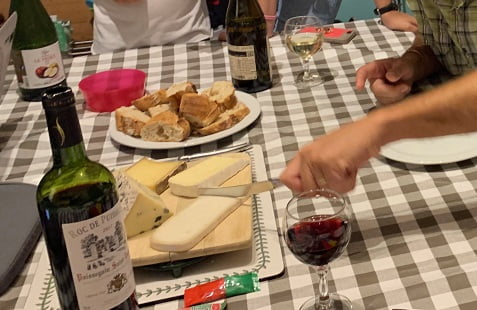 4. Forget Tampons on Sunday.
Unless you're living in a tourist town, you're going to find that most stores are closed on Sunday. That's slowly changing. In some places, such as in Paris, there are efforts to create automated stores with zero human register checkouts on Sundays (similar to Amazon's zero human interaction store in New York's Lower Manhattan), as a way to meet consumers' shopping needs within the framework of existing government regulations which are designed to give employees a rest day and to give people family time. Chances are though, if you didn't plan ahead for the expected or unexpected, you'll be out of luck in France. I love French culture and France, but I really wish stores were open on Sunday. And I've also got to believe that I'm not the only woman raising daughters who feels this way. 🙂